Installing and Configuring AXIGEN
Published on October 05, 2006
This article illustrates a situation where you need to set up your own mail server (be it your home mail server, or a small office one). It actually shows that, if using an integrated service mail server, anyone can do the job, all in a matter of minutes.
AXIGEN Mail Server, the solution chosen for this example, can send and receive e-mails securely via "mydomain.com" and is able to retrieve them in a WebMail interface - this means that it includes all mail services needed for a fully functional mail server (SMTP, IMAP, POP3, WebMail, WebAdmin).
To get an idea of the amount of time you can spare by installing such a solution, just think of all the different open source applications you would need to install instead (i.e. an MTA, Squirrelmail for Webmail, QmailAdmin for web configuration, Courier for IMAP and POP3 and many others.)
AXIGEN Mail Server can virtually integrate with any Antivirus/Antispam application and it comes with built-in connectors ClamAV Antivirus and SpamAssassin. The second part of this article shows you how to install these applications and configure these connectors for use with AXIGEN.
Thus, at the end of this process which can take up half an hour at most, you will not only have your mail server up and running, but also virus and spam protection for your incoming and outgoing mail traffic.
AXIGEN runs on several Linux distributions (Gentoo, Redhat/Fedora Core, Slackware, Debian, Ubuntu, Mandrake/Mandriva, SUSE), on BSD versions (FreeBSD, OpenBSD and NetBSD) and on Solaris but for the purpose of this article, let's suppose you are setting up your mail system on a Fedora Core 6 platform.
In five easy steps, you will have your server installed, your primary domain running and access to the Web configuration interface (WebAdmin).
1. Download / unpack corresponding package
Download AXIGEN rpm package from the AXIGEN website (packages are available as 30 day evaluation versions). Save the corresponding package for Fedora Core 6 "
axigen-3.0.0.i386.rpm.gcc4.tar.gz"
on your local machine and unpack the file, by issuing in the same directory as the download file:
tar xzvf axigen-3.0.0.i386.rpm.gcc4.tar.gz
2. Install command
Then, in order to install the RPM package, issue (while logged in as root) the following command, from the same directory as the rpm file:
rpm -ivh axigen-3.0.0.gcc4-1.i386.rpm
This will create the entire directory structure needed for AXIGEN to run. After the installation, no daemons or related application will be started.
3. Configuration options


AXIGEN provides several configuration options (configuration file, Command Line Interface), but the most intuitive and comprehensive one is WebAdmin, the Web configuration interface.
The corresponding WebAdmin service is enabled by default, as well as the other default services: IMAP, Logging, POP3, Processing and SMTP.
4. Initial configuration


The first configuration steps take place using the configuration wizard. You will set the administrator's password, select which services are started and what interfaces will be used. In this stage of the setup you also create the primary domain that your server will use.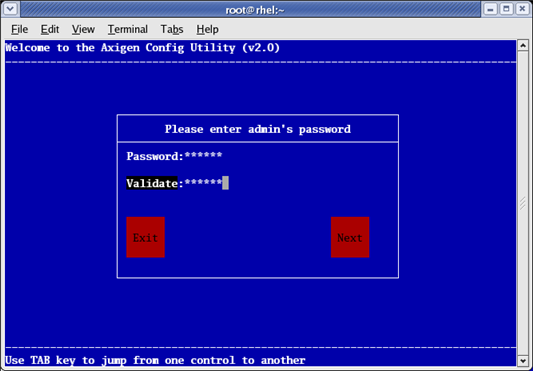 The wizard can be run by issuing the following command in the console right after the installation of the package has finished:
/opt/axigen/bin/axigen-cfg-wizard
NOTE: You have to make sure you do not start the mail server before the initial configuration.5. Start AXIGEN


You can then start AXIGEN, using its initscript, by issuing this command:
/etc/init.d/axigen start