Following the general trend in the high-tech industry, reporting tools are increasingly becoming a critical part in the process of maintaining and optimizing a messaging environment. From pure management and marketing purposes, they have now turned into effective methods of controlling resource usage and access rates and drawing out requirements for future development and improvement of systems architecture and services.

With such proven effects, advanced reporting capabilities are sought out by corporate managers and executives looking to drive their business to the top and are taken into consideration by IT professionals when making a decision regarding their email communication systems.

This whitepaper overviews the benefits of using server reports for monitoring your messaging solution and introduces readers to the new and improved reporting engine of AXIGEN Mail Server v6.2. For additional resources, also check out the complementary AXIGEN webinar, "Is your Mail Server Talking Back to You?".
Benefits of Using Server Reports
A substantial number of advantages can be gained by analyzing the traffic and flow of information through a company's email server. Far too often, the system administrator will set up the mail server and instantly feel confident that everything is running as expected just because emails arrive to their intended recipients, from point A to B. Server fine tuning and resource usage optimization are overlooked, thus leading to indirect losses and wasted resources.
A built-in reporting module can help prevent such situations and optimize server operations by enabling sysadmins to 'listen' to their server, more precisely to monitor their system's health and make the right decisions, depending on its evolution.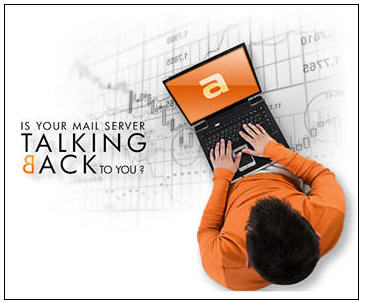 Monitor & control your mail server with the new AXIGEN Reporting Engine

Why Use AXIGEN?
Advanced Reporting Module
The AXIGEN Mail Server provides comprehensive reporting services for network administrators or managers looking to control and improve the email communication flows within the corporate environment and beyond. With a full set of advanced features and multiple customization options, its administration is simple and straightforward, allowing companies to quickly modify the solution to fit their needs using a minimum amount of human resources.
AXIGEN's next generation reporting engine enables sysadmins to set collection policies for server runtime parameters such as system load, connected users and sessions for each service, message queue size, average times spent executing service commands, values of inbound and outbound traffic counters etc. The monitored parameters are collected at specified time intervals and then rendered into graphical charts allowing the administrators to closely monitor and control server activities.
Ease of Configuration
Just as with all other services, AXIGEN's reporting module can be easily set up and thoroughly configured from the Web-based administration interface. Only a few clicks are required to get the service running and start gathering data from the server. Moreover, parameters collect information in the background even if not used in any charts. On demand, a chart can be created and any parameter can be added to a chart for comparison or monitoring.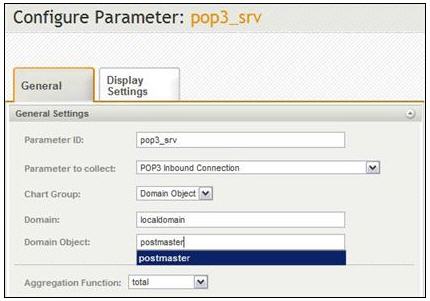 Parameter Configuration
AXIGEN enables the creation of multiple charts. Once the chart's settings are saved, it can be used over and over for tracking purposes and future reference. The values of the chart also get updated live each time they are accessed, so outdated information is not an issue.