It is a popular fact that most people hate whichever company provides the Internet into their homes. This is a significant problem. This article addresses why customers don't trust their ISPs and various solutions to the problem.
Most customers complain of personal information breaches such as transaction history, search history, and social media profiles by their ISPs. They fear hackers could use this opportunity to hack ISPs and obtain confidential information. However, what information an ISP collects, what it does with that information and whether it informs its consumers raises significant privacy issues.
ISPs sometimes state that they provide their information to government agencies upon request. In the US and other countries, such an application does not necessarily require a legal warrant.
For example, the Kazakh government ordered all significant ISPs not to allow users to access HTTPS websites until they have installed a root certificate. If the user is not ready and tries to open an encrypted web page, the ISP will redirect them to a static page with instructions on installing the certificate in their chosen web browser.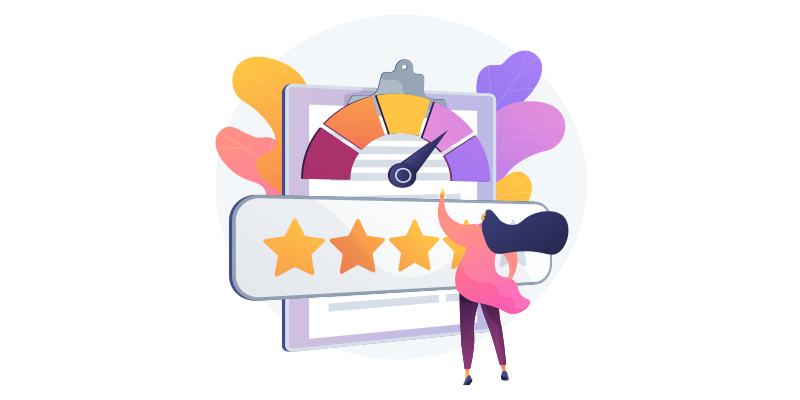 Current State of Public Trust in ISP Companies
According to a new edition of the American Customer Satisfaction Index (ACSI), a survey that asked 250,000 consumers about the quality of the products and services available to households, ISPs ranked, as expected, the lowest of any telecommunications company in terms of Customer Satisfaction.
On the ASCI customer satisfaction scale of 0 to 100, ISPs hit a record low of 62, with customer satisfaction falling in every category. The courtesy and helpfulness of their staff were getting worse. The same applied to the speed of transactions, straightforward understanding of bills, website satisfaction, reliability of internet service, ability to keep interruptions to a minimum, the Excellence and diversity of employee plans available, and call center satisfaction.
ASCI blamed the telecommunications industry's nature, which tries to maximize the number of net customer additions per quarter while neglecting almost everything else.
"When you look at retail, airlines, and many other industries, companies love to reward customer loyalty and offer perks or discounts for doing business with them," said David VanAmburg, managing director of ACSI.
How to Address Trust as an ISP
As we just said, there are many reasons why customers don't trust their ISPs. All of them need to be addressed to promote an atmosphere of trust.
Rewarding Loyalty
ISPs rarely offer a loyalty discount or program to their customers. With the Internet being a critical requirement for modern homes and businesses, internet service providers are less interested in earning their customers' loyalty by offering rewards.
The attitude seems to be something like: "Customers need our products, so we don't have to reward them." ISP's know they don't have to offer a loyalty program as most people can't live without the Internet and have to endure poor customer service and faulty devices.
In fact, with many ISPs, there's a penalty for being with the company longer. Customers get an introductory price for the first year, but after that? They'll be subjected to (more than one) price hike, often nearly doubling their bill. Furthermore, many customers who don't bother to optimize their ISP contracts regularly end up paying significantly more than new customers for the same services.
Improving Terms and Business Practices
Poor customer service, monopolized services, soaring prices, and no loyalty rewards are part of the questionable business practices and service terms that most ISPs employ. With excess fundings and a monopoly on services, most ISP companies often abuse the terms of use and manipulate them for the company's benefit, not the customer.
Not to mention several ISPs lie to customers, treat them horribly, or force them into shady contracts with hidden fees. Of course, these are a few bad apples — but a few bad apples spoil the entire pot — so everyone needs to be better.
Reducing Price Changes
Whether it's a sudden charge, an upgrade to services, or unexpected additional costs that the company makes mandatory (e.g., equipment rental), there are always extra charges. When customers are in a contract, the last thing they want is an additional fee, price increase, or monthly change.
Many ISPs these days have terrible deals on simple services, and most of them reserve reasonable prices on bundles. For customers to get a good deal, they almost have to include phone and TV services to get the package price. If you make a bundle deal, a better offer would be to replace obsolete landline services with an email service focused on providing highly superior security compared to existing free options.
Having Better Customer Service
Let us not forget the terrible customer service most ISPs have become known for over the past few years. If the internet modem isn't working or the connection is poor, it is challenging to get a hold of the correct department to fix it, let alone someone who doesn't get nasty over the phone.
Most ISPs are notorious for poor customer service but get away with it because there are few main options. It seems that ISPs have made a habit of treating their customers like numbers rather than people.
Responsibilities of ISPs
Here are some essential responsibilities customers say they would love to have their ISP's provide. Having these can build trust with customers.
Uptime Commitments
None of its services are worth anything if the ISP fails to meet its availability obligations of all the ISP responsibilities. The circuits should always work. If this is not the case, companies become dependent on redundant services or backup services. Offer service level agreements that provide precise and measurable targets for availability, not just 99.9% operational guarantees.
Downstream Speed
Many, including most customers, tend to rate an ISP based solely on advertised downstream speeds. While many ISPs promote their services as being extremely fast, these claims are usually false. Too often, IT pros hear: "2 Mbps is the best service we can get in this building" or "The circuit in this part of the city is not as fast as in other places."
Upstream Capacity
As with downstream speeds, ISPs must also prove upstream speed claims. VPNs' increasing popularity, remote access, and automated offsite backups bring tremendous benefits to an ISP's upstream capabilities. As businesses need to send more data to local mobile users, upstream bandwidth capacity becomes increasingly important.
Accessible Technical Support
How accessible is tech support when something goes wrong? I asked for assistance rebuilding a failed business circuit, only to hear a recorded message that support hours are 9 to 5, Monday to Friday; this is not acceptable for an ISP.
Pricing
Moderate prices are also a factor that an ISP should consider. Uptime, capacity, service accessibility, and on-site response are far more critical, especially given the importance of internet connectivity to businesses today. But the price is also essential. When everything else is the same — from availability to performance, support and equipment — the cost becomes a differentiating factor.
Secure Internet Connection
Protecting against malware and other security threats is also the responsibility of a good ISP. Here are some security protections needed by customers.
Active Protection
AntiVirus
Firewall
Parental Controls
Spam Protection
How to Communicate Your Commitment to Trust
Effective marketing strategies, PR, and Sales efforts can help promote commitment to trust and convince people of your ethical business practices. When used appropriately, PR can help a company – giving it the power to overcome almost any obstacle, including trust. Effective marketing strategies and PR is vital for all ISP for numerous reasons such as:
Growing Consumer Trust
Helps Managing Reputation
Promoting Brand Values
Building Consumer Interest
Strengthening Community Relations
Enhancing the Online Presence of a Business
Summing Up
There's a good reason why people aren't big fans of most internet providers. They're paying too much for unsatisfactory service.
These few points can help ISPs know what they need to work on and, in return, gain the trust of their customers.
If you agree with our take, feel free to show this article to other ISP industry professionals so we can build trust in this business space together!