Deliver a Premium, All-in-one Communication & Collaboration Service, with an Awesome Experience for Your End Users
Offer a premium WebMail interface that works with modern browsers for a desktop-like experience and allows them to have a single page integrated experience for emails, contacts, calendars, tasks, and notes.
Live WebMail Demo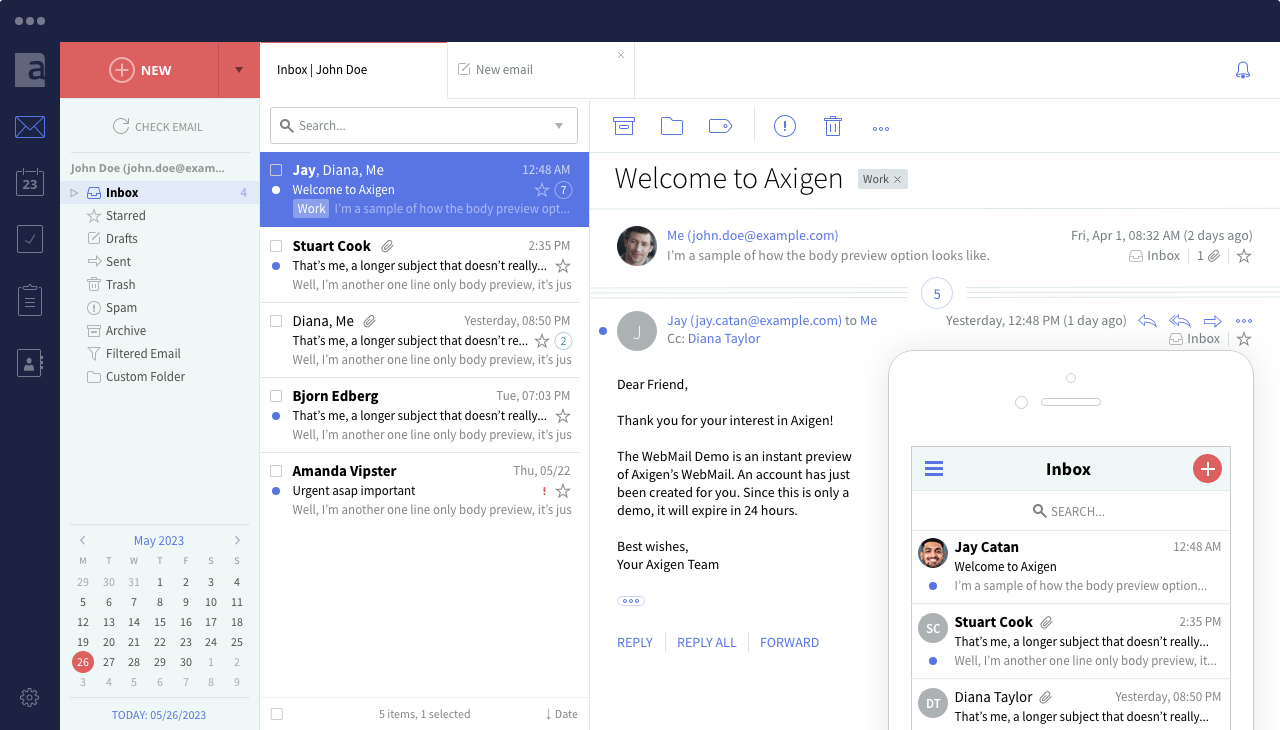 Support a Wide Range of Desktop and Mobile Clients
Use the Desktop app of their choice, like Thunderbird, Outlook, or others, including supported calendar, contacts, or to-do apps. Get email pushed onto their smartphone and sync calendars and contacts in real time with native apps on iOS and Android.
Flexible Licensing & Pricing
Starting from 1,500 users.
Monthly or yearly billing based on actual usage.
Basic
Front-line business email users
Starting from
$ 0.14
per user / month
Most Popular
Premium
Office-based business email users
Starting from
$ 0.27
per user / month
Email, Contacts
Calendars, Tasks, Notes
Pro
Intensive business email users
Starting from
$ 0.60
per user / month
Email, Contacts
Calendars, Tasks, Notes
Mailbox & Folder Sharing
Exchange ActiveSync
ANTIMALWARE & ANTISPAM
License-level protection
Starting from
$ 0.20
per user / month
High Performance
Low Maintenance
Bitdefender AV / AS Engine
Fully Embedded in Axigen
add-on
What Axigen Includes
Axigen includes communication and organizational features, such as:
Email Hosting
ISP mail server specifically built to provide you with scalable and reliable email hosting.
Personal & Shared Calendars
Calendaring with collaborative functionalities like meeting invites or shared calendars.
Contacts Management
Supports personal contact stores as well as public ones, groups, and mailing lists.
Tasks Planning
Also allows collaboration — i.e. assigning tasks to other users and tracking their progress.
Rich Notes
Create rich content, organize notes in folders, and edit them collaboratively.
Axigen is the server application that stores and manages all of this data.
Multi-tenancy
ISP mail server supporting multiple domains in a shared email hosting pattern
SSL SNI support for multiple certificate hosting on a single IP address
Independent domain configurations (quota, filtering rules, etc.)
Delegated administrators
Scalability
Clustering with multiple — frontend and backend — nodes
Multi-storage Support
Split domain over multiple nodes
Scaling automation
Security
SSL certificates management, including Let's Encrypt support
Built-in systems against email impersonation
Built-in Premium AntiMalware and AntiSpam engines, powered by Bitdefender
DNSBL and phishing protection via Axigen's premium aDNSBL and aURIBL cloud service
2-Step Verification for WebMail services
Integrability
With network elements: load balancers, HA Proxy protocol
With auth providers: OAuth 2.0, LDAP
With monitoring and alarming: Prometheus / Grafana, SNMP
With centralized logging infra: Elasticsearch / Kibana, Graylog, Syslog
With provisioning: CLI support, provisioning API
Your Choice of Datacenter
Leverage your own hardware or use a public cloud
On Premise
Kubernetes
VMware
Bare metal
In the Cloud
Amazon
Azure
Other public cloud
You Are Not Alone
Professional services, managed services, customization, and training
Professional Services
As part of an optional Professional Services package, we can help with everything you need before you go live:
Meeting infrastructure requirements

Sizing your email platform

Deploying your email platform

Integrating anything you want integrated

Custom setup by user type and behavior
Custom Development
If you need further customization for your ISP mail server, we offer Custom Development as an extension to the Professional Services package. Custom development can include:
Entirely custom-made email services and apps

White-label WebMail client

Your design and brand*

Additional custom features — available upon request
* Not just your logo and brand name (available off the shelf) but full integration with your brand identity
Managed Services
Once you go live, we can even help you operate your ISP email server. The Managed Services package is an operational add-on that can include:
Monitoring services (via our monitoring platform)

Service Level Agreement (SLA)

Stress-testing and probing

Proactive problem-solving

Full responsibility for platform performance, KPIs, and uptime
Training Packages
We also offer optional Training Packages that can teach you how to operate the Axigen email server on your own. Training sessions typically span over a few days and contain:
A Theoretical Part where we describe the product and how it works

A Practical Part with training exercises that teach you:

How to deploy the Axigen platform

How to operate an Axigen cluster

Stress-testing and probing

How to monitor the platform

How to backup the platform

Many others (based on your specific use cases)
What's in It for You
All in all, what do you get with Axigen? Top 4 benefits of our ISP mail solution:
#1
A modern, stable mail server software backed by a team of experts that live and breath email and have your back 24/7.
#2
The means to build email hosting products relevant to your local markets and customers.
#3
The opportunity to keep and promote your brand — distinct from ours, Microsoft's, or Google's. 
#4
Reduce churn, as offering email hosting services is known to be one of the best churn reduction mechanisms.
What's in It for Your Customers
→
Peace of mind that their data is in good hands, close to them and subject to rules and authorities.
→
Reassurance that the email security is top notch, with multiple security layers behind.