We at Axigen are always looking to improve the experience of our end-users. Our aim is to make things simple while keeping the flexibility to which our users are accustomed. Here's a summary of the more relevant UI/UX improvements in Axigen X4 and what you'll learn about in this article:
emojis
mentions
text editor toolbar.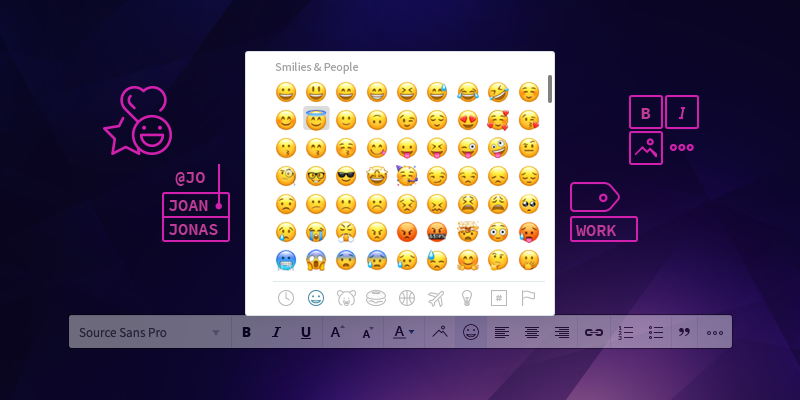 New Usability Features in X4
Emojis
Where are they? There's now an emoji option on the new "compose" toggle (it's the little 🙂 in the newly redesigned HTML editor toolbar). Here, emojis are separated by categories, you'll find your most recently used emojis at the top of the list, and there's a search bar at the top. You can quickly select from your list of recent ones or search for the right emoji(s) by using specific keywords.

What else can you do? You may add emojis in the subject line of the emails, and of course, to the body of the emails. These also show up in the "snippet" part of your inbox.
Important to note: the way emojis look is based on the OS you have.
Short History: How Emojis Took Over the World
Emojis portray emotions and represent ideas, phrases, and words. They go as far back as the 1860s when the :) emoticon was seen in the New York Times, most likely a misprint at that time. Fast forward to the 1990s, when AOL includes "buddy icons" to convey feelings or communicate statuses.
Constantly evolving across cultures, screens, and time, thousands of emojis now exist to showcase our diversity, jobs, animals, and other things we interact with in our world. Emoji designs and standards are incredibly high, considering their inclusivity. Read about the complete history of emojis here, and don't forget to try them out in your Axigen emails 😁.
@Mentions
Now, on to @mentions as part of Axigen X4.
Imagine this: you're writing in the body of an email and you feel like Sally Adams must see what you're mentioning. Regardless of who you're looking for, you can write an @, start writing the name, and you'll get a drop-down list of your address book contacts (and collected addresses) to choose from. This list includes anyone you've sent an email to in the past. It makes mentioning someone especially easy because you wouldn't necessarily have to save your contacts.

What's really neat here is that you don't have to include the full name in your mention; you can leave just the first name by deleting the last name.
Additionally, when you choose someone from the drop-down menu, the system automatically fills it in for you in To: or in Cc: in case you didn't already have it there. If you aren't sending it to that person but are only mentioning them in the body, simply delete them from the appropriate field.
Rich Text Editor
Speaking of the HTML editor and its toolbar (where you can also find emojis):
the drag and drop feature already allows you to pick which type of format you want for your photo attachment - as an attachment or inline.
if you want to quickly add an inline image, you can now just click the new "Add image" toolbar button, select your image, and it will get added to your content.

By clicking the "more" button (...) you have and can:
choose left to right or right to left editing
choose your highlight color
include a horizontal line
use the source editing option.
Other Ways X4 Improves End-user Experience
We want to make your experience better with these three new additions to our growing list of improvements. Our Dark Mode is one of the other cool features you can choose from to further personalize your email dashboard to feel more like you.
Not only can Dark Mode put you ahead of the competition, help you save battery life, and even provide health benefits, but it becomes especially useful when you use employee- or customer-facing products that have dark-mode-enabled competition (psst, ISPs).
Read more in our Benefits of Dark Mode article.
@Axigen X4 🥳 Keeping You Happy, and Your End Users Even Happier
You've seen how we improve end-user experiences in your X4 webmail. Are you ready to add more feeling to your notes and emails with emojis and add friends or coworkers to your conversations by @mentioning them while composing? What about formatting your content faster or adding inline images using the new, dedicated button and the redesigned HTML editor toolbar? Get ready for the new and updated UX.