Updated: September 19, 2022

We know that choosing the mail server provider that suits your business best and is not costing you your entire tech stack budget is challenging.
Assuming you're looking for an IceWarp alternative or a similar mail server provider, here's what our customers have to say about why they switched from IceWarp, what their goals were, and how they feel months or years after successfully switching to Axigen. Let's begin!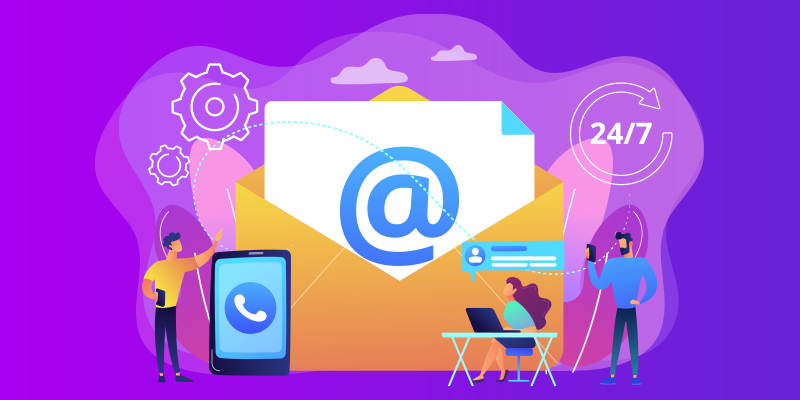 Why Do You Need an IceWarp Alternative?
IceWarp is a Business Mail Server & Collaboration Solution that facilitates real-time communication through emails, chat, video calls, and online meetings. This makes it a great Microsoft Exchange alternative for enterprises.
However, often, ISPs have other business needs for which Axigen Mail Server is a better-suited solution.
First, from a technical standpoint, IceWarp is a multi-process software with an off-the-shelf database behind it. This means that for large installations:
it's less efficient / more error-prone / more complicated to troubleshoot
it might require a specialized DBA (database administrator) to manage it, in addition to a sysadmin.
This translates into complexity and, thus, cost.
Meanwhile, Axigen is a single process software with its own optimized database and built-in clustering for high scalability.
Second, service providers need a robust and easily scalable solution that they can depend on to grow their business. A solution like Axigen.
Alternative to IceWarp: Axigen — a Reliable, Secure Mail Server Software, Deployable On-Prem and Cloud-native
For high-volume service providers and telcos, cloud computing is the key enabler of digital transformation projects. Designed with scalability and automation in mind, the Axigen Cloud-Native solution is a secure, growth-oriented mail server based on Docker & Kubernetes containers.
It integrates naturally within the IT ecosystem of ISPs / Hosting Providers / Telcos by exploiting all the benefits that cloud computing has to offer:
on-demand limitless computing power
pay-as-you-grow business model
reduced IT spend (lower barrier to tap into new markets)
increased speed and agility
automation
faster integrations
The Axigen Mail Server is a premium all-in-one email, calendaring, and collaboration solution based on proprietary technology. Unlike other solutions, it's fully integrated, multi-platform, easily brandable, and localized in over 29 languages (including right-to-left writing mode).
Because all modules are integrated into a robust messaging solution, it can be used by large service providers to develop a structure of plans, including SaaS, collocation, rental, or reselling.
What makes Axigen Great
Full automation — automated storage increases and processes that repair, scale, and deploy your system far faster than humans can

Increased agility — DevOps and Sysadmins get a powerful framework to manage, run, and maintain the mail server software

Elevated performance — we provide the highest density of hosted mailboxes per hardware unit that allows engineers to maintain and evolve email applications at high velocity

Total privacy and control over your email infrastructure — you can run your Axigen license on any type of infrastructure, on-premise or cloud

Turn-key solution — you can get up & running in less than 20 minutes

Customizable branding & advertising — the WebMail Interface is easily brandable with several skins the end-user can choose from

Automatic migration without the need for legacy accounts' passwords

100% security — our adaptive filtering approach can adjust and improve protection to suit your business. Moreover, we provide antivirus and antispam integrations from some of the most known, used, and trusted solutions, Cyren, and Bitdefender

High-level expert knowledge team available 24/7/365 to help you with your technical challenges.
When you combine all these features, you get an IceWarp alternative for service providers that enables:
Unlimited Scalability
Axigen's base architecture has been tailored with the need for high performance and the fault-tolerance of the systems and services in mind.
Unlike other non-distributed email solutions on the market that allow vertical scalability through hardware upgrades, Axigen allows virtually unlimited horizontal scalability. It also offers service providers the possibility to scale at the software product level on the hardware infrastructure of your choice, or from a licensing point of view.
Machines can't be upgraded endlessly. So when the upper limit is reached, the only solution available is to distribute accounts on more than one device. This way, for a single account, there will be one machine responding to requests.
With Axigen, when the messaging solution's overall capacity is reached, more machines can be added to provide a capacity upgrade.
Being a cloud-native solution, having lightweight containers also means you get optimized infrastructure and application architectures that can be scaled-out as needed.
Reliability
Reliability is a non-negotiable requirement for mail servers as you need 100% availability and uptime. Axigen is built to provide fast and secure email transfer, processing, and delivery - performance you can count on.
What Our Customers Think of This Solution
1. Excellent Support
Axigen support is second to none. We offer 24/7/365 technical support available in your local language for products purchased from our partners. All technical support packs include maintenance (free access to new version upgrades, patches, or updates).
And you don't need to take our word for it — you can see this for yourself after you request your free trial.
Axigen's support is second to none. Issues, feature requests, bugs are all addressed / added / fixed in record time. Having fantastic support is just so important to us because if something breaks, the fallout for our customers is huge. Email is too vital to have any downtime.
Bradley Silverman
Senior Technical Operations, VentraIP Australia
2. Unmatched System Administration
Axigen comes with a very intuitive administration interface that enables virtually anyone to configure the mail server, even if they don't know a scripting language. Moreover, compared to other solutions that need to be configured via the command line, the interface helps sysadmins cut down on configuration time (because you can clone configurations from one server to another) and avoid misconfiguration.
Also, Axigen comes with an API for automation. CLI is implemented as a TCP service with a specified dedicated socket accessible using Telnet applications and Netcat, and it provides added functionalities such as alternative methods of performing basic configuration tasks and automating administration tasks using scripts (adding users, migration).
A CLI API layer is available for PHP or Python, allowing sysadmins to programmatically perform administration tasks, such as provisioning accounts, domains, or mailing lists or configuring various server parameters. To make things even easier, we also provide automation scripts for administration and provisioning.
Summing Up
Still unsure about your alternatives? We're always up for a chat — just shoot us a message throgh the webchat and we'll get back to you ASAP.
For more details about the Axigen mail server software, you can review our ISP page listing most of our top features here.