Updated: March 31, 2022
Email is a critical component of any company, from SMBs to enterprises, from those using it for internal purposes, to service providers who need a multi-tenant email solution.
However, configuring a mail transfer agent (MTA) is not as fun. And if you're using a service like Postfix, you might find it complicated and non-intuitive.
Today, we're here to give you one of the best alternatives to Postfix you could possibly get & explain why that's the case.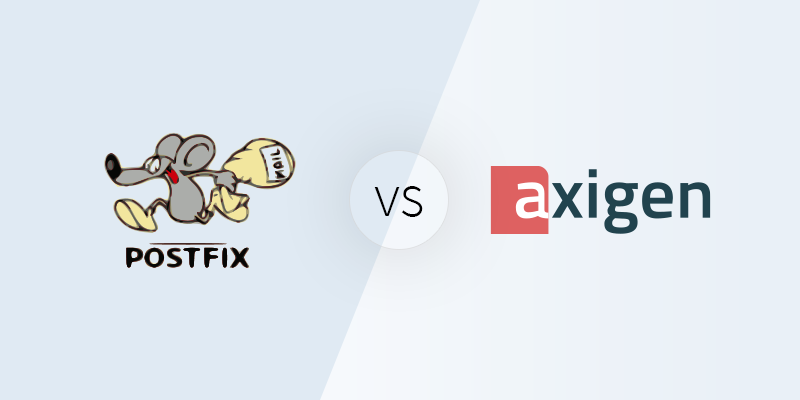 Why You Need a Postfix Alternative
If you've ever tried Postfix, you probably know that it takes forever to configure TLS and permissions, through trial and error. Because it's such a pain to configure, it's also easy to get wrong.
A flawlessly configured MTA has a significant impact on email deliverability and you definitely want to avoid any factors that could prevent your emails from reaching their intended inboxes.

Not to mention that Postfix doesn't have an official version-controlled repository. This makes maintaining and support harder.
If you're looking for a Postfix alternative, Axigen is a great option. Axigen is a full-fledged mail server that comes with its own MTA. That means it can do everything Postfix can, and more - so much more.
It also runs on Linux, Windows, Docker, VMware & more and comes with many other add-ons and services that can help companies just like yours save time, money, and resources.
Let's take a look at what exactly makes Axigen the best Postfix alternative out there, both for its MTA component, as well as a fully-fledged email solution.
Looking for a Mail Transfer Agent – Postfix vs. Axigen
To make this comparison fair, we're going to analyze the most important aspects of a mail transfer agent or MTA.
If you're a company that sends lots of emails (marketing emails, email automation, transactional emails – invoices, payment confirmations, development/testing etc), you need a reliable mail transfer agent that can help you achieve a high-level of deliverability.
Here are a few things you should be taking into account when choosing a mail transfer agent:
usability & manageability
API/integration capabilities
clustering
deliverability-centered features (throttling, IP pools, routing rules, etc.)
email authentication capability and monitoring (SPF, DKIM, DMARC)
multiple queuing
spam control (for outgoing mail).
Below, we've highlighted the reasons why Axigen is the best Postfix alternative:
1. Performance
With Postfix, you may have noticed that once you increase the number of parallel connections, the difference between the number of accepted and delivered messages is significantly greater.
That's because, in Postfix's case, a big part of the processing power is used to accept messages. This, of course, has a significant impact on delivery and causes a server blockage.
Axigen, on the other hand, maintains a balance between the number of received and delivered messages, and its performance increases when new parallel connections are being added.
One single server can deliver up to 84 million messages per day. This makes Axigen one of the most efficient solutions per hardware unit.
How did we get these numbers? To find out how our mail server performs compared to other solutions on the market, we decided to conduct a speed test for a standard usage scenario — a test reproduction of highly available solutions recommended for large implementations in the ISP and Telco market segments.
The results: as the Axigen mail server is highly optimized for fast deliverability, in some of the lab tests we've run, it managed to deliver up to 976 messages per second. If you consider all test data publicly available online, this proves the fact the Axigen mail server is extremely efficient in terms of deliverability and speed.
For more details about our test and the mail server configuration we used, check out this article.
2. Administration
Axigen mail server has an administration interface, compared to Postfix, which needs to be configured via command line. Now, some sysadmins might consider this a nice-to-have feature, but we tend to disagree.
This is an essential feature that has a significant impact on the time you need to configure each server. Being able to use a very intuitive interface not only cuts down on configuration time (since you can clone configurations from one server to another) but can also help avoid misconfiguration.
Last but not least, having an interface means that almost anyone can configure the mail server, even if they don't know a scripting language.
3. Flexibility
Axigen mail server runs solid on Windows, Linux, Docker, VMware & more. That's not something you see every day, especially when it comes to something as complicated as enterprise email processing (although Axigen performs impeccably for home use, in lab/dev environments, and in heavy traffic setups with high numbers of users as well).
While some sysadmins might prefer an open-source solution like Postfix Mail that they can configure however they want, that's not always a plus. If you need to integrate and modify lots of additional applications, you can waste lots of time and money on researching, installing, configuring, and maintaining your mail server.
Despite the fact that Axigen runs on proprietary software, we're constantly in touch with our customers and strongly encourage feedback and suggestions.
4. CLI & CLI API for Configuration Automation
Although Postfix can be configured via command line, it doesn't come with an API for automation.
In Axigen, CLI is implemented as a TCP service with a specified dedicated socket accessible using Telnet applications and Netcat. It provides added functionalities such as alternative methods of performing basic configuration tasks and automating administration tasks using scripts (adding users, migration).
The CLI service can be configured similarly to other services, either by editing the configuration files or by using remote configuration tools like WebAdmin. It has common parameters such as maxErrors, logLevel, etc. and also a list of listeners for configuring incoming connections.
The CLI API is a PHP wrapper that allows sysadmins to programmatically perform administration tasks, such as provisioning accounts, domains, or mailing lists or configuring various server parameters.
To make things even easier, we also provide automation scripts for administration and provisioning.
5. Container Support
With Axigen, you can get all the advantages of an all-in-one mail server in a single Docker image. This way, you don't just get a mail transfer agent, but an all-in-one mail server solution that delivers:
powerful business mail server
calendaring & collaboration
local & remote access
managed let's Encrypt certificates;
different types of deployments, from a single server to clusters;
easy administration;
integrated antivirus and antispam solutions.
wireless mobile sync
extensive security toolset.
Postfix doesn't offer container support per se, but as a workaround, you can use other open-source projects that bundle Postfix Mail in a container.
Looking for a Full-fledged Mail Server
Up until now, we've described a few reasons why Axigen is a great Postfix alternative. Now it's time to dig even deeper and reveal all the benefits you get by using an all-in-one mail server solution.
If you're looking for an email server platform that you can access through SMTP + IMAP/POP3 and take advantage of premium mail server features like WebAdmin, WebMail interface and ActiveSync, then Postfix is not enough for you, as this goes beyond what a mail transfer agent can offer.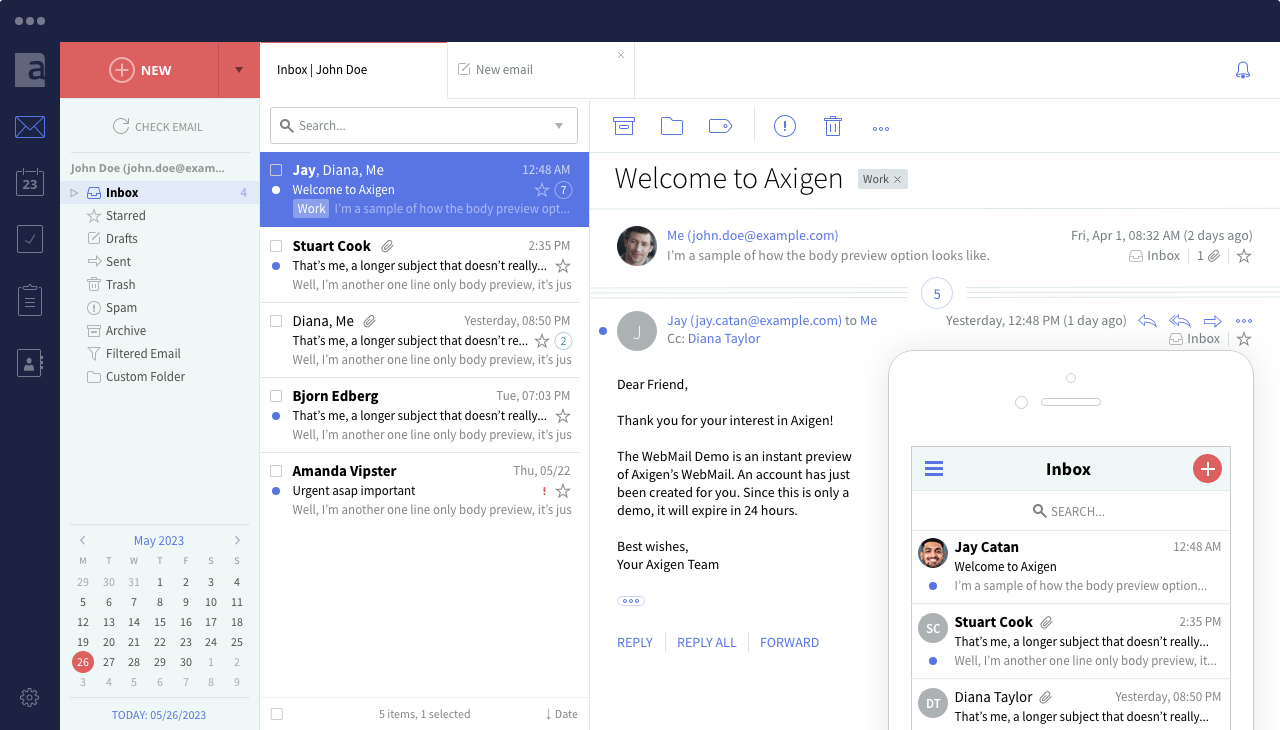 Being a cloud-native application, Axigen is a better Postfix alternative because it offers a complete mail server solution that enables:
1. Scalability
Axigen mail server has a highly available, scalable, multi-tiered architecture. The base architecture has been tailored with the need for high performance and the fault-tolerance of the systems and services in mind.
Other non-distributed email solutions allow vertical scalability through hardware upgrades. When the upper limit is eventually reached, due to limitations, it makes it impossible to continue upgrading one machine.
When that happens, the only solution available is to distribute accounts on more than one machine. This way, for a single account, there will be one machine responding to requests.
Axigen allows virtually unlimited horizontal scalability. When the overall capacity of the messaging solution is reached, more machines can be added to the solution to provide a capacity upgrade.
2. Reliability
Reliability is a non-negotiable requirement for mail servers. In fact, choosing a reliable platform that's easy to manage and maintain will help you reduce the costs of ensuring service availability and uptime, as well as the costs associated with end-user productivity.
Axigen's high-performance mail server technology is built to provide fast and secure email transfer, processing, and delivery - performance you can count on.
3. Security
Axigen guarantees secure email communication, protecting confidential data with an extensive set of defensive tools. We constantly raise the bar for email security, as we're determined to offer solid defense against the latest messaging borne threats.
For extra email protection, we also offer the possibility of extending your security toolset with several add-ons (such as AVG or Commtouch) or by integrating any of the available commercial Antivirus and Antispam applications.
4. Effective Time-management Tools
Axigen also provides effective time-management tools such as personal and public Calendars, Tasks, and Nnotes, available from WebMail, MS Outlook, and CalDAV compatible clients.
Advanced collaboration functionalities enable you to share emails, tasks, and appointments by granting your co-workers permission to read, write, delete, or perform other actions on the content of mailbox folders of choice.
We also allow our customers to effortlessly add different premium features to their mail servers, such as Outlook Connector or mobile sync.
5. WebMail Access
The Axigen WebMail allows users to securely access their mailboxes from all major internet browsers (Google Chrome, Internet Explorer, and Firefox).
Even more, the Mobile WebMail interface enables you to access your WebMail account from any mobile phone, allowing you to check your emails, compose messages, download attachments, and more.

Postfix vs. Axigen
| | Postfix | Axigen |
| --- | --- | --- |
| Messages sent | no default set | 976 per second |
| Operating system | Linux | Windows, Linux, Docker, VMware |
| Admin interface | | |
| CLI & CLI API | | |
| Container support | | |
| Scalability | | Unlimited horizontal scalability |
| Security | | Secure email communication thanks to the Axigen AntiVirus & AntiSpam (powered by Cyren) / Kaspersky AntiVirus & AntiSpam add-on |
| Time-management tools | | |
| WebMail access | | |
Conclusion
Whether you heavily rely on email communication (email marketing, email automation, transactional emails, etc.) and you need a mail transfer agent, or you're looking for a full-fledged mail server for everyday email usage, we can offer you all the tools you need for your day-to-day activities. And we do this in a way that also allows you to save time, money, and stay safe.
Choose a full-fledged mail server that can take care of all of your communication needs.