Updated: July 19, 2022

ISPs offer many services to their customers such as establishing Internet connectivity and maintaining the network infrastructure, among others. Sometimes though, just offering these services is not enough. ISPs typically have to go above and beyond to retain their customers.
In this article, we will talk about customer stickiness and how important it is in increasing and improving brand loyalty. We will also cover how ISPs can focus on customer stickiness. Finally, we will talk about how Axigen helps ISPs in this process.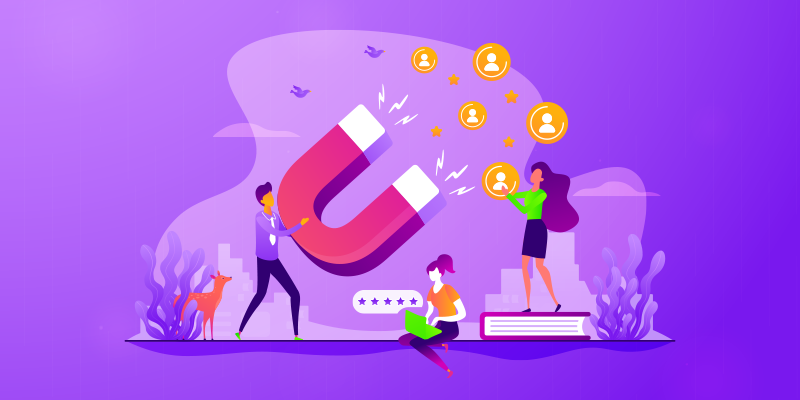 What Is Customer Stickiness?
Customer stickiness refers to the quality of engagement that a customer has with a product or service, as well as the likeliness to prevent them from discontinuing the use of a product or service. We can say that customer stickiness loosely equals customer satisfaction, meaning offering something so unique and indispensable that customers would not even consider leaving.
Customer stickiness and customer loyalty go hand in hand, neither one is more important than the other. In fact, customer stickiness is a fundamental stepping stone that leads to customer loyalty.
Customer Stickiness for ISPs — an Example
When we refer to ISPs, we are not just referring to internet providers. ISPs often also offer other services such as email, web hosting, domain registration, and browser and software packages.
For ISP customer stickiness, the situation becomes a bit more… sticky. Let's take email, for example. Most people have and use the same email address for years without thinking twice about it. They're not eager to change their email address, and, therefore, they will not want to leave a provider if that means losing their email.
Because email is indispensable to customers, you will want to keep offering an email hosting package. And as an ISP, you can offer unlimited email addresses to small businesses.
While an email service is a great example of how ISPs can increase customer stickiness, it should never be the sole reason customers choose to stay. However, sadly, customers are often stuck in a lacklustre relationship with their providers because they would lose their email data if they were to switch.
How Does Customer Stickiness Help Me as an ISP?
Creating a sticky experience for your customers translates into a recipe for growth. Having a sticky brand experience will help you turn leads into buyers, convert one-time buyers into lifelong customers, and transform customers into brand ambassadors.
You could have an incredible marketing strategy in place, but without a product or service that caters to all of your customers simultaneously and in multiple ways, your business will suffer. Communication and inclusion are important aspects of customer stickiness; you have to continuously adapt to new market conditions and customer demands.
Below are a couple clear-cut ways customer stickiness helps your business:

You get more business through referrals
When your current customers feel that their opinion matters and they get the most out of your service, they will not hesitate to refer you further, thus helping you acquire new customers more easily. You can also take this one step further by implementing a referral program. More information on this topic in our Marketing Plan for ISPs article.
A good example of a referral program is VOXI, started by its parent company, Vodafone. It targets young adults 25 and under and works like this: for each person you refer that stays at least 2 months both you and your friend get an Amazon gift card. The more referrals you have, the more gift cards you can claim.

Decreased need for churn reduction
By focusing all of your efforts on customer satisfaction, your customers will continue to stay loyal because, essentially, there will be no reason for them to leave. In this case, increasing brand stickiness is a good way to fight off churn. ISPs feel added pressure to implement retention strategies, as 77% of all consumers retract their loyalty more quickly than previously. But if you are able to keep your customers happy, loyalty will surely follow.
Ultimately, you may not be able to stop all of your customers from leaving, but you will be able to hold on to your most loyal customers for longer.
How ISPs Can Increase Customer Stickiness
Increasing the quality of services provided is an ongoing process in a growing digital age. The market is oversaturated, so you have to make sure you stay at the top of your game when it comes to servicing your customers. To keep products or services sticky for your customers, follow the steps below:

1. Offer a broad range of services
Having a multitude of products and services not only contributes to customer stickiness but also becomes cost-effective to rely on as few providers cover communication needs. This, in turn, increases ARPU (average revenue per user), especially considering specific add-ons (such as an email service) are the reason customers stay.
Our Axigen Mail Server provides ISPs with a powerful mail server to help reduce email processing time to a minimum, and not only. The ISP mail server is specifically built to provide customers with fast and reliable messaging but you can also offer other value-added services such as Wireless Mobile Sync, calendaring, or sharing and collaboration.

2. Offer great service and perks
The customer looks for value in any product. You have to offer great customer service, as well as something your customers will never want to lose (such as an email address). While this seems a bit obvious, it goes beyond the amazing onboarding process we mentioned in the beginning. If a customer has an ongoing negative experience, you will most likely lose them.
Take this example from Vodafone, which uses AI-powered analytics to analyze consumer behavior across a variety of channels to uncover each customer's preferred communication channel. They then use this information to reach out to customers to offer them discounts or other perks pertinent to their needs in return for their loyalty.
You can learn more about how to anticipate client needs and drive more personalized campaigns from this webinar on how AI is changing the customer retention game.

3. Personalize customers' experience
Customers leave when their loyalty is not acknowledged or appreciated in some way, so implementing a customer loyalty program is equally important. Free trials, discounts, or access to complimentary services (such as video streaming) are all examples of loyalty programs that customers tend to respond well to.
Personalizing your loyalty program takes it one step further as rewards that are relevant and beneficial to a customer will make them remain loyal. You may also want to offer them benefits they cannot find anywhere else.

4. Offer premium email as a separate, revenue-generating service
To further offer benefits customers can't find anywhere else, consider implementing a business model that sells premium email services. At first, some customers and stakeholders might be confused. However, keep in mind that any service provider can turn their email offerings into a separate, exclusive product for those who require higher-end email offerings.
Remember: many internet users simply prefer to buy email security options that are customizable and include add-ons, full admin options, complete privacy options, and mailboxes for their teams or business... By offering this, email customers will stick around much longer than if you're bundling unnecessary products or services.
As a result, Axigen becomes a clear choice across the board with premium features such as calendaring, archiving, filtering, collaboration tools, and not only. So, large enterprises, such as VentraIP, can then use the email server software however they need.
Stick by our Side
It is important to remember that when a business fails to interest its customers, reward them, or help them grow, those customers will take their business elsewhere.
We previously mentioned email is a sensitive topic for customers. With that in mind, we built our mail server with:
a fast and friendly WebMail interface that offers a seamless, desktop-like user experience,
time-management tools such as personal and public calendars, tasks, and notes,
private and public address books,
extensive security toolset,
easily brandable, and
localized in over 29 languages (including right-to-left writing mode).
This is something you can offer your customers and make your service more sticky.
When people are used to a certain experience, they become more unlikely to leave, especially if a competitor can't offer them the same level of service. We are sure we can help your customer grow with our premium, all-in-one solution based on proprietary technology. Are you willing to give Axigen a chance?