So you're about to buy Axigen. First of all, we'd like to thank you on behalf of our entire team. Second, we're here to show you all the steps you need to go through to purchase your new Axigen license.
To promote a better user experience and a more streamlined buying process, we've worked to build our New License MSP Messaging Price Simulator. By going through this automated buying guide, you can complete your purchase without ever interacting with a salesperson.
Pretty great, right?
In what follows, we'll highlight the various elements throughout the process, mentioning essential details to keep in mind along the way. But before that, let's take a look at what exactly you're getting with us.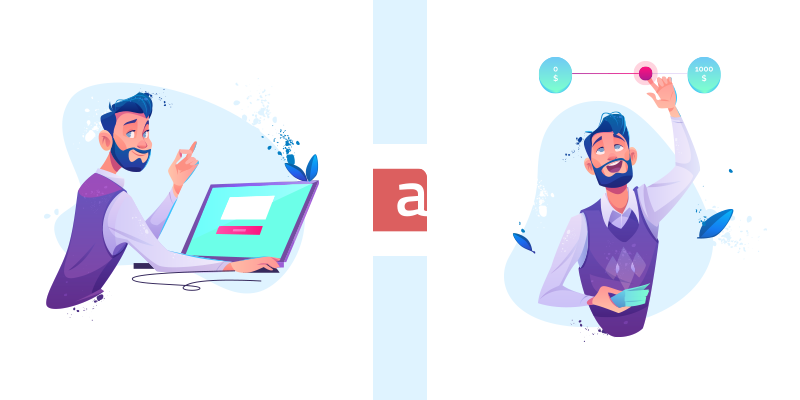 Why Should I Buy Axigen?
Axigen's email solution is somewhat unique in its versatility and flexibility — and we're always very proud to showcase just why that is. So, we begin with a few key product differentiators that make Axigen into the one-of-a-kind product it is today:
Transparency. Our licensing model is entirely transparent, meaning:

You can simulate your actual and the forecasted usage prices using our price simulator
You can see the prices and cost breakdowns before you commit
You can see the agreement fully before signing it.
You can see what kind of support you're getting before signing

Flexibility. Once you purchase a license, you don't have to worry about selecting the wrong number of accounts. You can create as many users as you need or use as few as you want, and you will pay-per-use for the previous month's usage. For example: if you decide on the minimum pack of 150 users - 120 basic users, 5 pro users, and 25 premium users, each user can be reconfigured later on, as required. You can check your account usage at any point through the Account Classes in the Axigen WebAdmin.

Independence. Your Axigen license offers you complete customization options. You can create additional users without changing the contract, the license, or the key. With Axigen, you get everything from the start, and the invoicing part will be updated as you go.

Granularity. Axigen contracts are also optimized for incremental growth and intelligent pricing. You can essentially think of this feature as the more you grow, the less you pay. Once your accounts reach a specific threshold, you will pay less per user. The full details of this pricing model are attached to your License Agreement and can be reviewed at any time.

Robustness. Email is one of the areas where users are most frequently under threat. There are many types of malware emails that go from inbox to inbox. With Axigen, you get a fully secure and robust solution. As a GDPR-compliant EU business, we prioritize privacy and keeping user data safe while abiding by lawful intercept regulations to help root out fraud.

Cost-efficiency. Try this in our price simulator: with the minimal package of 150 users and no add-ons, the resulting price is just €22.50 per month on a yearly agreement, with monthly invoicing based on usage reports that automatically update.

Pay-per-use: If you decrease your usage and have less than 150 active users (eg: 100 Basic + 10 Premium + 10 Pro users, hence 120 total users), you will be invoiced for the precise number of created users (120 users), and the difference up to 150 users will be rated at the smallest price (aka, an remaining of 30 Basic users to reach the total of 150 users).

Unrivaled Support. Many of our clients say that 24/7 technical support is our biggest advantage. You can review our support services here, but for now, all you need to know is we'll be there, anywhere, anytime, a message away.

Brandability. Commercial packaging has never been so optimized. With Axigen, your packages are brandable based on domain — so you can use your logo or even the client's logo. For example: if you're offering email as a premium service, you can ensure your customers get a branded email experience - an advantage that also helps with customer stickiness.

Multi-tenancy. If you have multiple clients, you can use our WebAdmin to separate them based on domain and invoice them separately through Axigen. Furthermore, you can administer the accounts individually and invoice them based on the types of users they have. We're offering full flexibility adapted to your commercial packages.
How Do I Buy Axigen?
Now that we've gone through what makes the Axigen Mail Server Software unique, we can move on to a walkthrough of our sales-free buying process:
1. Go to the MSP pricing simulator page
The first step is to visit the price simulator page on the Axigen website. You can do so from the website menu above or by clicking the MSP Messaging Pricing Page link here.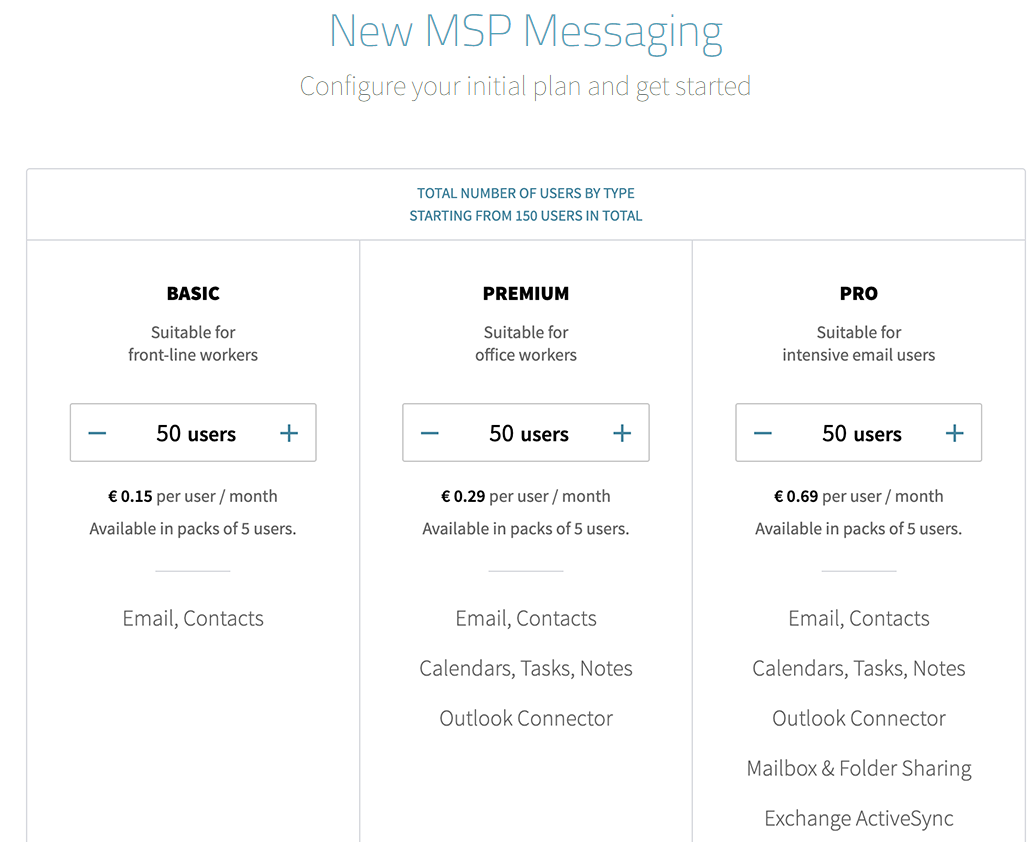 2. Research the plans and what they include
On the MSP pricing page, you can review the details for each type of account:
Basic: includes email and contacts
Premium: includes Email, Contacts, Calendars, Tasks, Notes, and the Outlook Connector
Pro: includes all the Premium features plus Mailbox & Folder Sharing and Exchange ActiveSync add-on.
Note: You can read the fine details of each plan in our Axigen Account Management Guide, which includes instructions for creating new users, checking and changing the number of users for each class type, migrating accounts between class types, and more!
3. Decide the number of users of each type you want
Next, you need to decide how many types of accounts you want for each class.
The minimum number of accounts for the MSP Messaging Plan is 150 Basic users (see screenshot above).
If you need fewer users, you can always opt for our Business Messaging solution. Alternatively, because of Axigen's flexibility and granularity, you can update your plan 1 month after signing the contract — so you only pay what you use.
4. Select your add-ons
For the fourth step, it's time to select add-ons:
AntiVirus and AntiSpam Protection
aDNSBL and aURIBL (optionally, you can choose one or both).
To see the details about Axigen's security features and add-ons, visit our Mail Server Security section.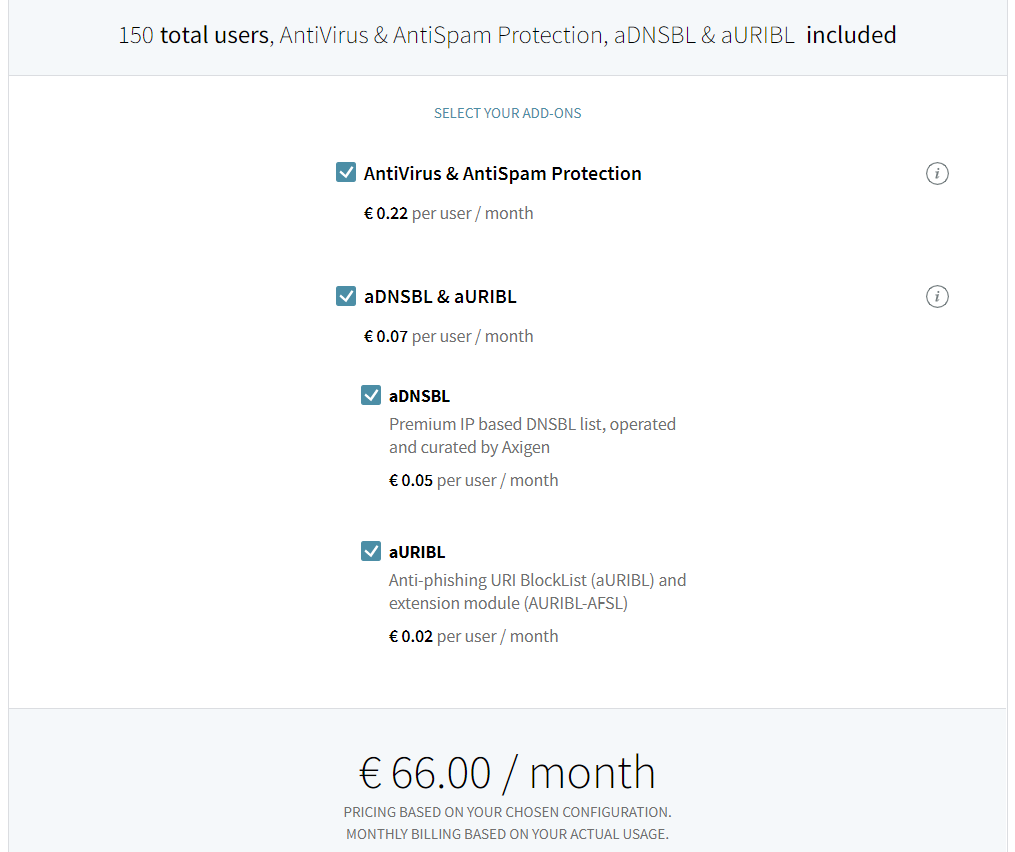 Note: Axigen add-ons are optional but apply to the entire license agreement, even if you mix and match both add-ons and account classes.
5. Review the non-committal simulated price
Every step prior to signing the contract (step 11 on this guide) is non-committal. That means you can toy with your price point as much as you want and move on to review the contract thoroughly before ever agreeing to anything.
After you select the number of accounts for each class and the respective add-ons you want, you can review the exact price point you'll have.
Remember Axigen MSP Messaging contracts are yearly agreements invoiced monthly based on usage reports. This means you could essentially pay less than your simulated price if you don't use the entire package. Your license agreement will also contain the exact details of how this works.
You can also change the currency from the top right drop-down menu (automatically set based on geolocation). This changes the currency throughout the license agreement.
6. Add your official contract details
Once you click "Sign Up & Get Started", it's time to fill in your official contract details. This step is also non-committal.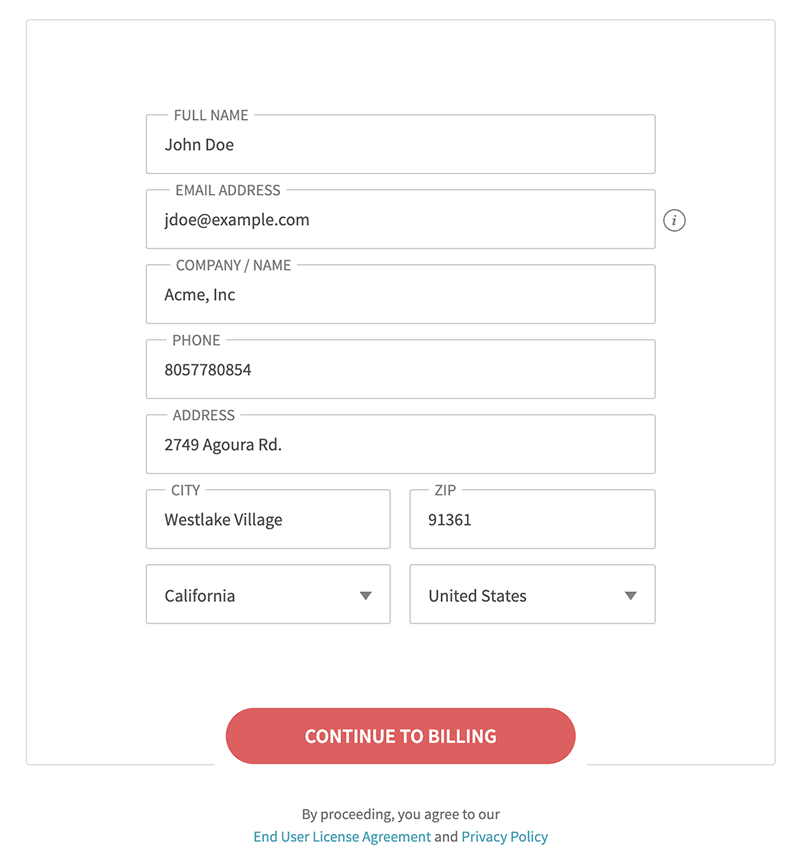 *fake details for demo purposes.
7. Add your billing details
After filling in your contact details, you don't have to repeat the process for billing details, as they will be filled in automatically once you click "Continue to Billing."
However, by simply editing the fields, you can enter billing details different from your contact details.
8. (Optional) Add your VAT-ID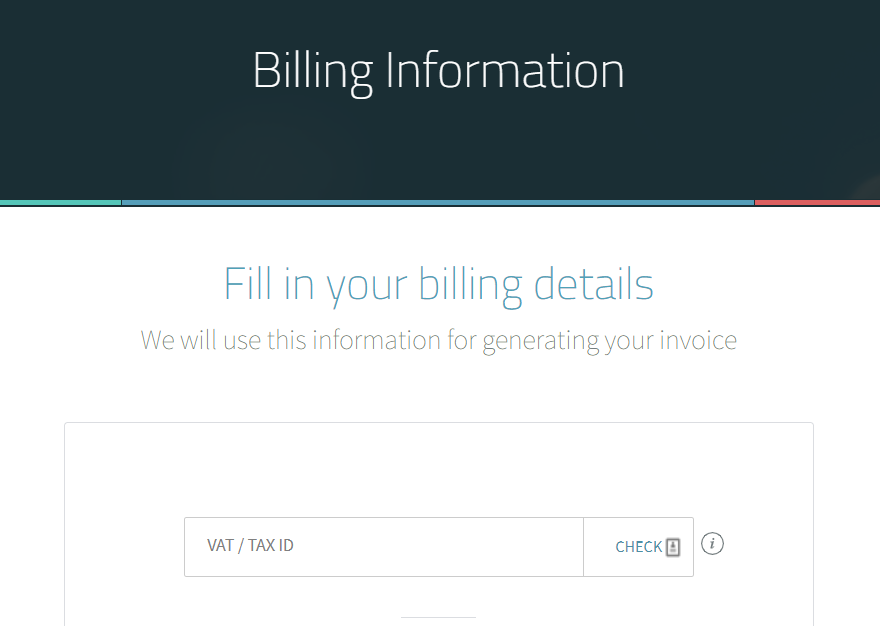 Businesses in the EU (or those that have an EU office or are otherwise eligible) can also enter a VAT ID or TAX ID to have their email spending tax deducted. It's important to add it if you have it because otherwise, VAT will be added to your price point.
This step is optional, but only after you proceed (you will be prompted to complete the field, at which point you can select "SKIP VAT ID").

9. Add your legal representative details
After billing is complete, you will be required to add your legal representative's name, position, email, and phone number for the license agreement to be generated. These details will appear on your contract next to the signature line.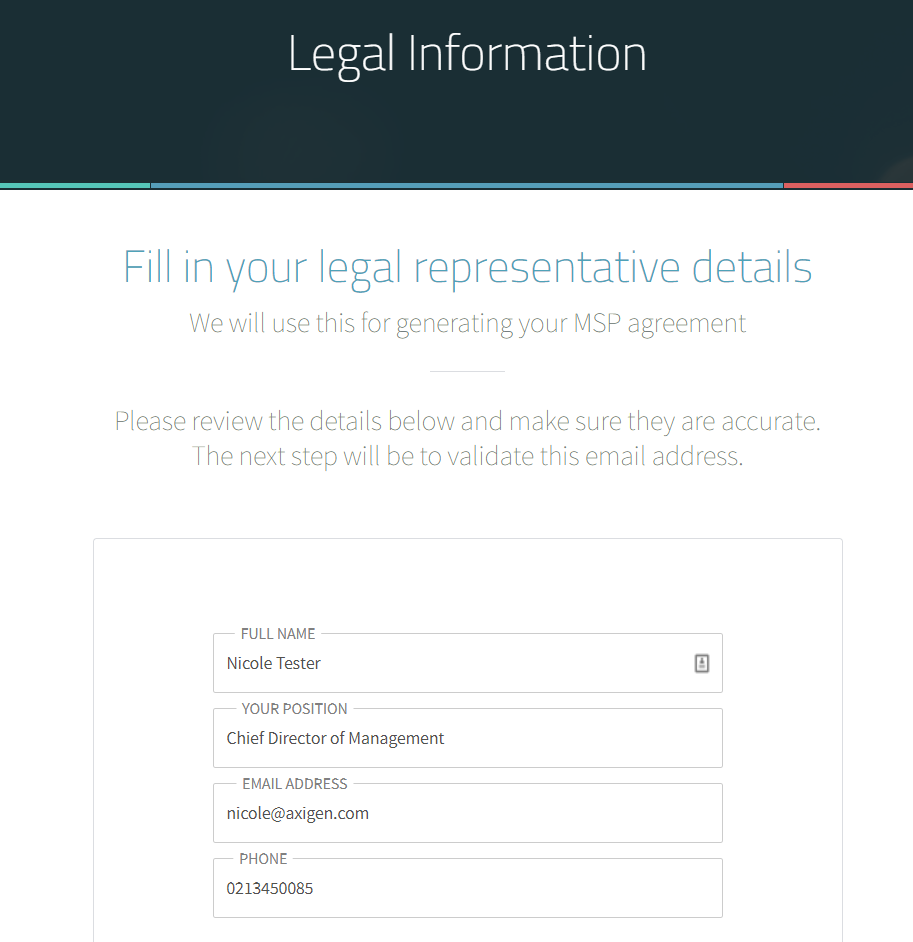 10. Verify your email address
Once you finish with all the details, you should check your inbox (specifically, the official contact email you added in step 6).
You will receive a link to the autogenerated MSP License Agreement. Clicking the link means giving an explicit agreement that we will use the details you provided to generate an MSP agreement. It also helps verify your email address.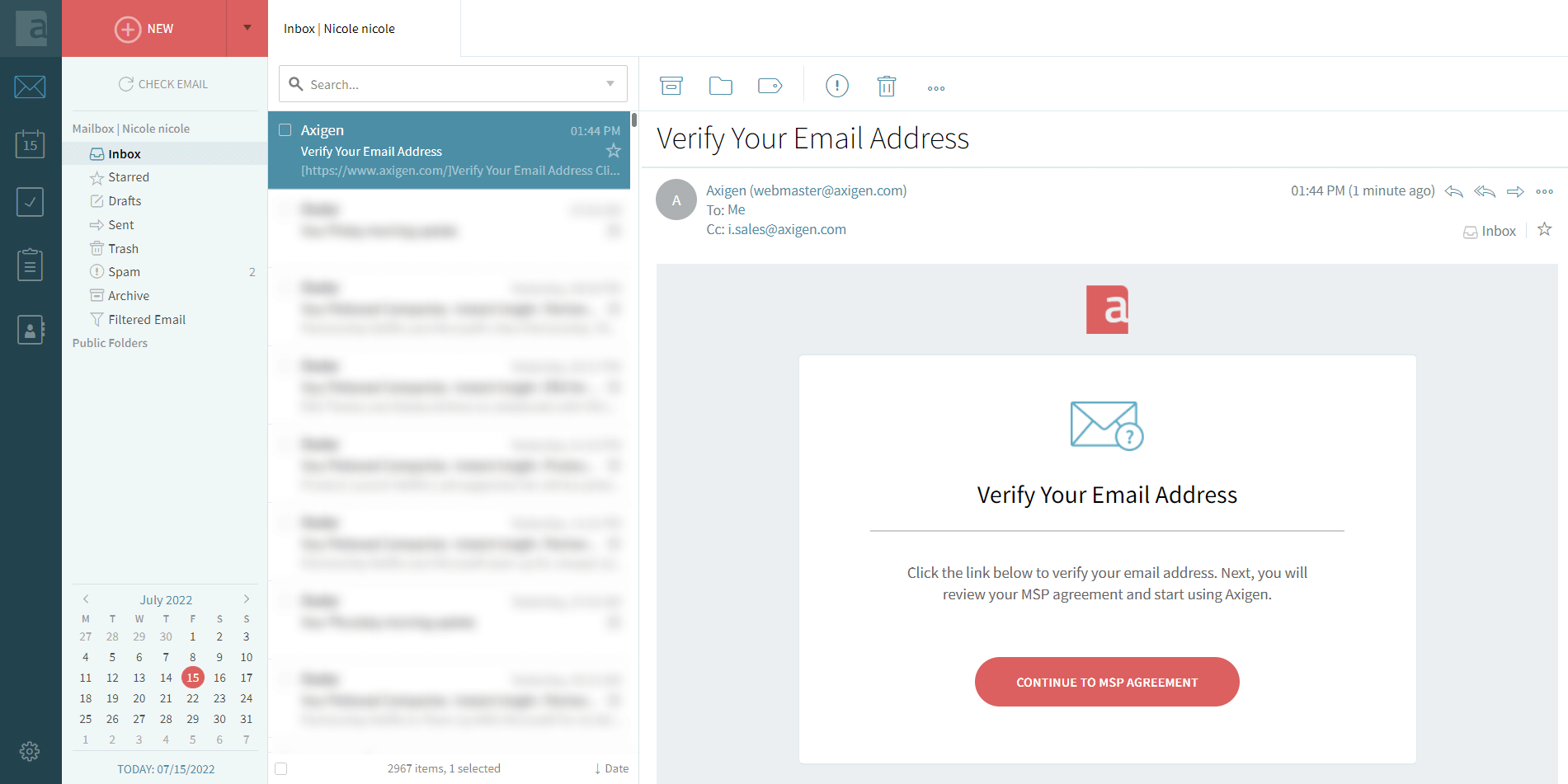 11. Review your MSP Agreement
The next and possibly most crucial step is to thoroughly review all the details of your License Agreement before proceeding.
If any details are incorrect, please contact the Sales team. Remember - none of the steps up to this point involve any payment commitment, so you won't be charged.
Note: If at this stage you are confused about any contract details or simply want more information, click on the live chat button in the bottom right corner of our website. We'll be happy to help in any way we can!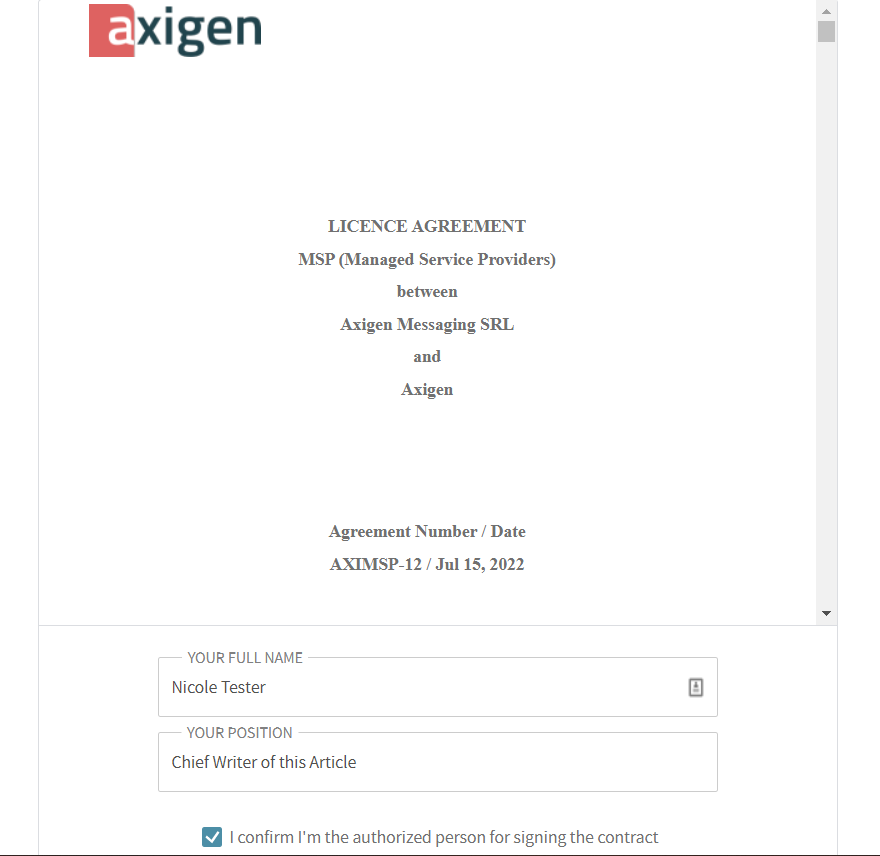 12. Confirm you're authorized and sign the contract
At this point, you have to confirm that you are authorized to sign the legal document.
To do that, fill in your full name and position and tick the box to confirm your authorization level.
Caution: you must add the exact legal representative details you added in step 9. Otherwise, you won't be recognized as a person able to sign the contract.
Then all you have to do is sign the contract — this is the full commitment stage, and you will be charged monthly.
13. Done! You'll be invoiced monthly
Congratulations! You've now purchased an Axigen license.

Recommended Steps after Buying Axigen
However, before you start enjoying the sleek Axigen WebMail, there are a few extra steps we recommend:
1. Review your signed contract
After you sign the contract, you will receive two new emails. The first one contains your Axigen Contract in PDF form. We recommend downloading this file and reviewing it thoroughly.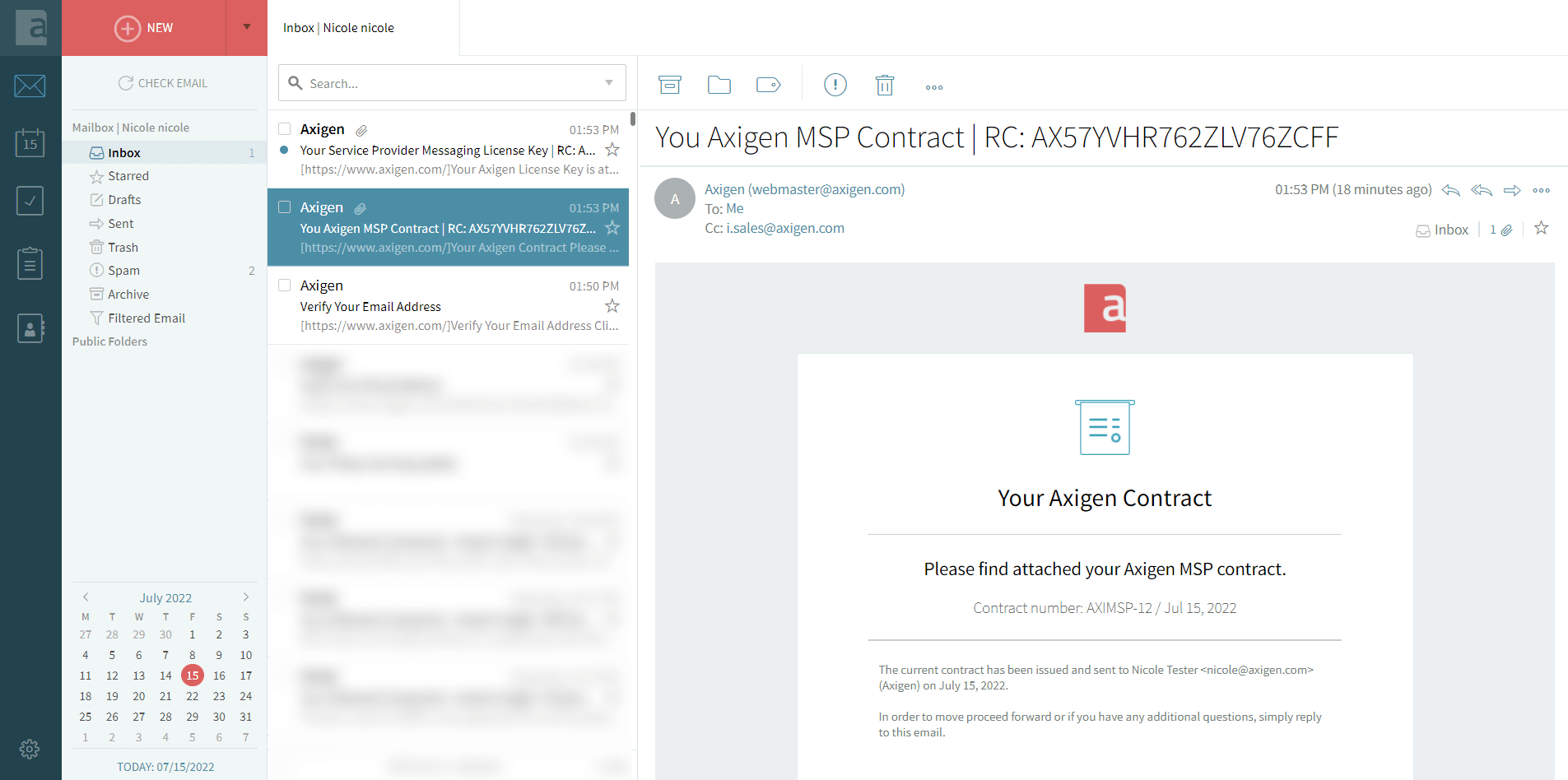 Note: If at this point you notice something off about your agreement, please reach out to us ASAP by emailing the sales team (you can just use Reply All) or using the live chat function. Our sales team will guide you through the next steps.
2. Check your support options
Within the body of the MSP Contract Email, you will also find details on your support options. Make sure you're familiar with how you can reach out to us and review our list of resources to ensure your life with Axigen goes as smoothly as possible.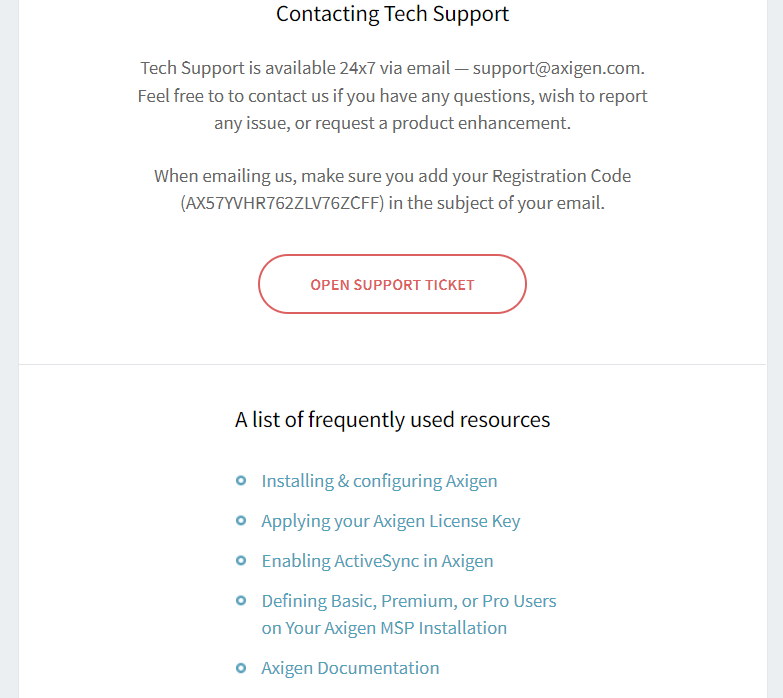 3. Review Annex 3
Pay attention to the Annex sections. Annex 3 contains the Basic Package and MSP License information associated with your specific account.
Here's a test example, so you know what to look for:

4. Review pricing breakdown by stages
Pricing is one of the areas where Axigen truly shines. Close to Annex 3, you will find a breakdown of Axigen Prices by type and monthly usage.
As you can see in the screenshot below, your price point will decrease the more users you have.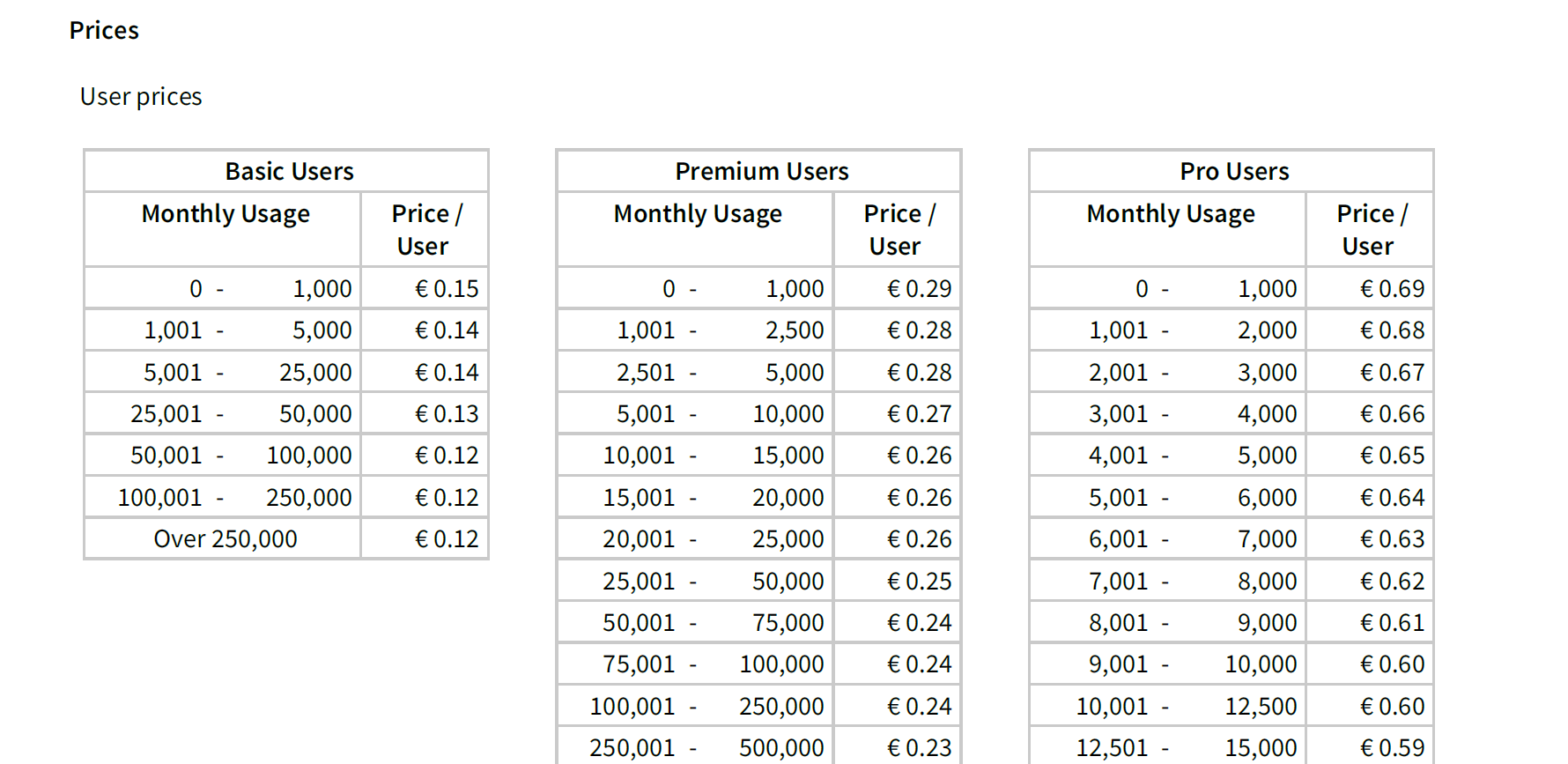 Furthermore, add-on prices also decrease if you add more users. So always check how many users you have and see if you qualify for a lower price point.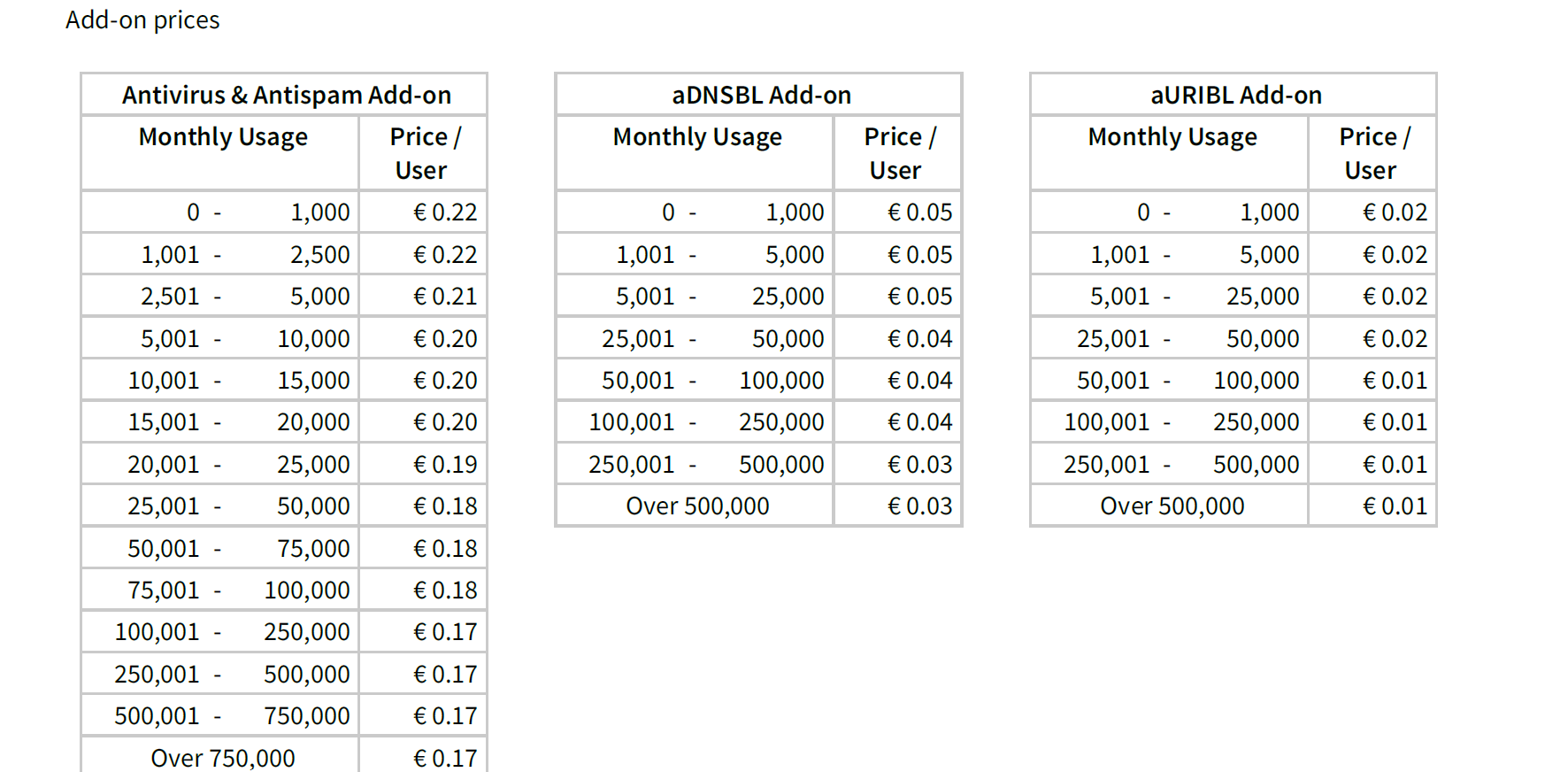 Reminder: you can see how many users per account class at any given point by accessing the WebAdmin. You can read the instructions in our Account Management Guide).
5. Download and use your license key
The second email you receive once you sign the contract contains the purchased license key. To use your Axigen license, you have to download and install the Axigen mail server.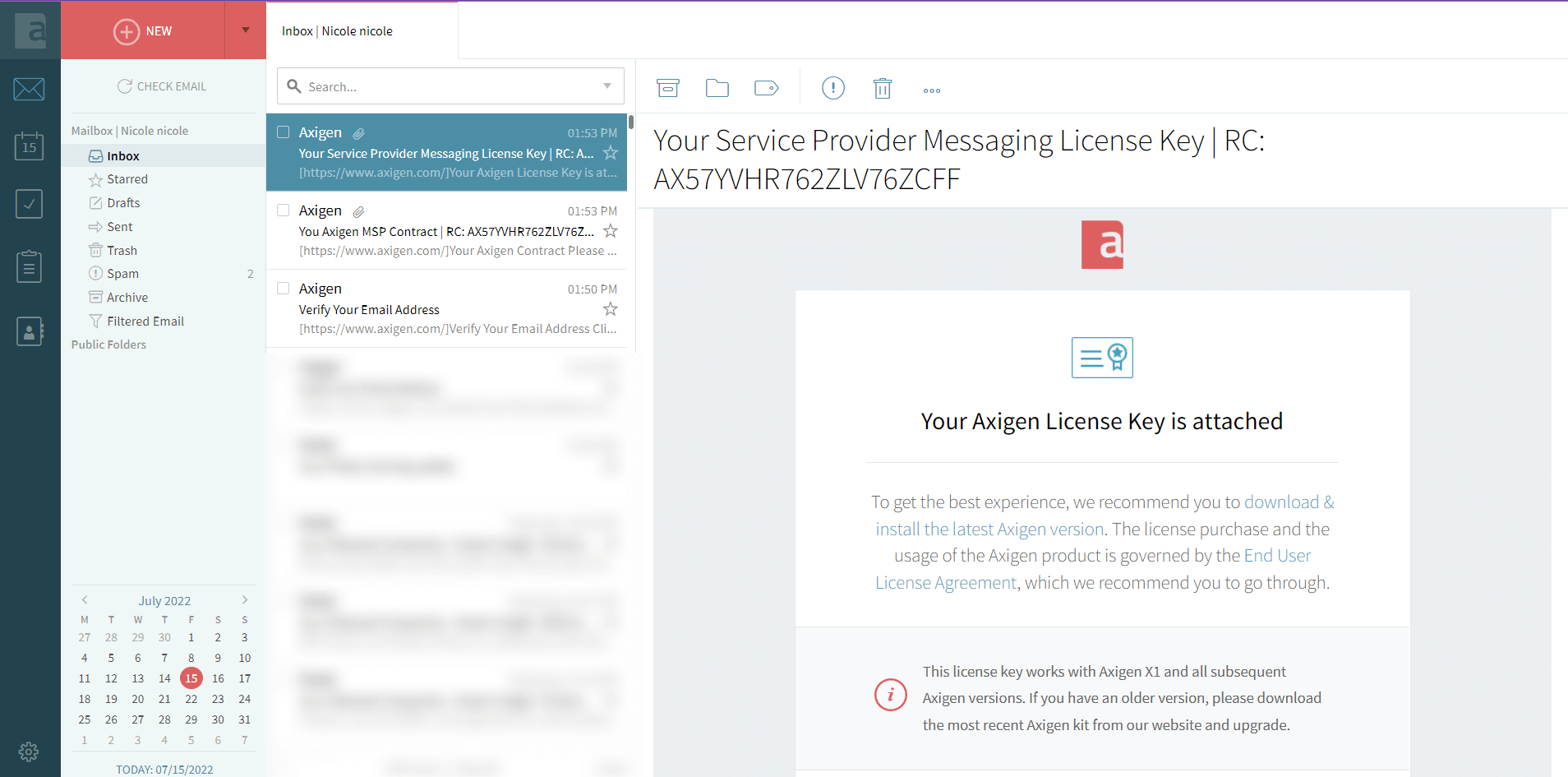 Can't Go Yearly? Try Perpetual Licensing with Business Messaging
Our MSP messaging agreement is a yearly subscription with a monthly invoice. Many governmental organizations, as well as other businesses, cannot legally opt for a tax-deductible annual subscription. Others might not want one.
For those types of organizations, we recommend the Axigen Business Messaging plan, which runs on a perpetual licensing model. The Business solution has two packages: BM Core and BM Complete, both starting at just 10 users.
Types of Organizations that Can Use Axigen
Absolutely any organization can benefit from Axigen, but the best ones in terms of value acquisition are:
Telco companies
MSPs
Hosting Providers, big or small
SMBs
Educational / Government institutions
Any business with granular licensing
Any business that can model their plans on Axigen.
How Do I Choose My Subscription?
Axigen is modeled in such a way that whichever subscription you pick, you're still going to be okay.
If you have too many users, you don't need to worry. Your monthly invoice is calculated by multiplying the number of licensed users (based on usage reports) by the price point you have per user. So essentially, you only ever pay for the accounts you have in each category (down to an overall minimum of 150 users).

If you need more users, that's amazing! Axigen was designed for growth, and it does so automatically and in sync with your needs. All you need to do is keep creating users, and your invoicing will update automatically.
From the moment you get Axigen to the moment you have to grow your subscription, you don't ever need to talk to sales. Everything, from the buying process above to the email client itself, is optimized for a frictionless user experience. It's a trust commitment from us to you.
As for some best practicing when deciding your initial number of accounts, here's some advice:
Forbes recommends an identity governance approach to email to "cover different types of access to applications based on risk and privileged sessions" — in essence, that means four email addresses per user.

AARP, whose target group of older adults is particularly susceptible to online fraud, says it's best to have at least two email addresses per user so they can separate financial and personal matters and prevent fraud. We recommend a similar approach to both B2B and B2C clients, and like AARP, we encourage the use of 2-factor authentication (also available in Axigen).

You can also follow an interesting Quora thread about this. Spoiler: the number of email accounts you need in business is exactly how many it takes to communicate effectively throughout your company.
Conclusion
However many accounts you choose, we're glad to have you with us at Axigen.
Now that you have a license, it's time to install and configure your Axigen inboxes. Of course, we've got you covered with extensive documentation that covers just about any setting you want to change within the WebAdmin.
For more information, remember we're always one click away in the live chat in the bottom right corner. Happy sending!
Still unsure? Try Axigen now for free!