Although today there still are big email hosting providers that offer their services for free (like Yahoo! or Google), they are targeting the masses, the consumers. At the same time, the bulk of their revenue comes from other sources, including premium email hosting services they offer to businesses (for example, Google also offers Google Workspace).
The business model of an email hosting provider is most profitable when offering its services to business customers. In this article, we'll highlight the benefits of selling email hosting services independently from other services, as well as how you can use Axigen to offer email hosting to SMBs.
Note: You can also use Axigen to offer a consumer type of hosting on very large domains, but this is not a topic we'll cover here.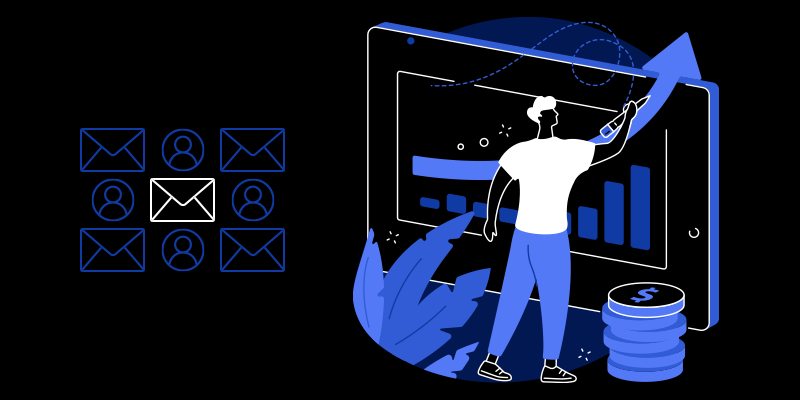 Exploring the Benefits of Premium Email Hosting as a Revenue Generating Area
Before we go into the benefits, first, let's clarify who can benefit from a premium email hosting service — potential clients who are looking for:
A fixed number of mailboxes for business or personal use, separate from other cost-incurring services
Total email privacy, not dependent on Google, Yahoo, or any other big tech business
Businesses for which data territoriality is important - usually regulated industries or other considerations that impose this topic
Extensive email security options with many add-ons available
Flexible administration and server options
Customer Stickiness
As an email service provider, you have the option of reselling another (bigger) provider's services. For example, VentraIP is also a Google Workspace reseller. However, this business model doesn't work in your favor. No matter if you choose to resell Google Workspace, Office365, or Open-Xchange, you are essentially giving your customers away.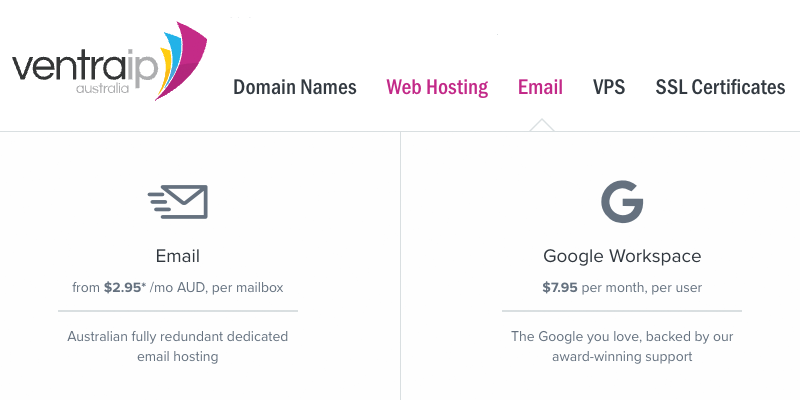 If, on the other hand, you choose to offer your own email hosting service on your servers and manage it yourself, you will benefit from customer stickiness. We go into more detail about what customer stickiness is and why you, as a service provider, should keep your customers close in a dedicated article.
Data Territoriality
Your clients' data are subject to the laws of the country where the data is stored. The only way you can have full control over your customers' data and what happens to it is by hosting and managing it yourself.
ProtonMail, which deliberately chose to operate under Swiss law, has come to use this to their competitive advantage.
Money
Let's be honest; the point of any business is to become profitable. Although there are email hosting providers who offer their services for free to the masses, they can afford to do so because their revenue comes from somewhere else, like a web or e-commerce portal. If you don't have a similar business model, the only way you can be profitable long-term is by offering a separate, premium email hosting service.
Mergers & Acquisitions
What You Need to Sell Premium Email Hosting Separately
From a C-level perspective, all you need is the hardware infrastructure, a team of engineers to manage that infrastructure, and a Project Manager who can orchestrate everything. From a project management perspective, you need the following:
1. Your Infrastructure
To offer a premium email hosting service, first, you must decide where you'll host your servers. You have the following options:
You have your own data center. This means you use your own servers, storage, and networking equipment, along with the Axigen software and other additional services, to build your email hosting service.
You use the virtual servers offered by a VPS provider. You can go the cloud-native route and use Amazon Docker, Azure Docker, GCP Docker, or any other Docker solution and use Axigen on top.
You use Docker or Kubernetes solutions managed by Amazon, Azure, or Google and use Axigen on top.
No matter which of these options you choose, the important thing is that you are the one that owns and manages your clients' data. Here's why this is crucial:
As we've mentioned in the beginning, your client's data falls under the jurisdiction of the country where the data is stored and processed. We have two articles dedicated to lawful intercept on our blog that you can check here and here, but what you need to be aware of is that whether you choose to use your own data center or store your client's data elsewhere is a very important business decision you as an email hosting provider need to make.
2. A Website
Let's say you have the infrastructure; now, you need a presentation website where you can promote your services.
Ideally, you'll want to ensure that the email hosting service you're offering takes a front and center position in the menu, and you don't "hide" it behind your web hosting service where the email hosting is just a byproduct of the fact that someone buys a cPanel subscription. Or you can co-locate your premium email hosting service with another service you're reselling like VentraIP does (see image above).
Besides the marketing function, your website will also serve as an online shop. This means that you'll need a billing system that can process online orders and tax your customers monthly/annually. In the backend, this system will provision the servers and create your email hosting service using the Axigen APIs, issue and send invoices, and cut the access (or whatever business flow you want to implement) for the customers who didn't pay.
Note: Axigen doesn't have designated billing partners, but we offer an extensive provisioning API that can be leveraged by any billing or provisioning system you create and manage accounts on the email hosting platform.
Other backend components you should consider are a monitoring and alarm system, a logging system, and a lawful intercept system.
Ready to Boost Your Revenue with Axigen?
If we've convinced you to start selling a separate, premium email hosting service, here are a few reasons you'll want Axigen as your trusted partner:
A great WebMail experience: the Axigen WebMail interface is intuitive and easy to use on both mobile and desktop. We call it a "one-stop-shop" experience for emails, calendars, tasks, notes, and contacts. Bonus: your customers will be able to personalize it with their business branding.
A cloud-native approach that makes building and running scalable apps a walk in the park no matter how much you need to scale horizontally.
Top-notch security features: we ensure your customers will have 100% secure reception, transit, and delivery of email, including the safeguarding of confidential data.
Stellar vendor support 24/7: we're always just a message away.
Automatic migration: want to migrate other mailboxes? No problem! (and no downtime or data loss)
No need to take our word for it; you can test all these benefits on your own before you deploy our solution into production here.